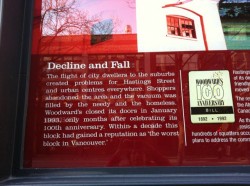 Visiting the Downtown Eastside (DTES) has churned up some contradictions for me, and resolving those contradictions requires re-thinking some questions I thought I already knew the answers to:
1) To what extent do people choose to live in the DTES, and to what extent are they stuck there?
2) Does the DTES community strengthen its residents or weaken them? Does it help mitigate the impact of addiction and poverty, or does it help perpetuate addiction and poverty?
I don't know. Maybe they choose it and are stuck there. Maybe they are both strengthened and weakened by it. Maybe it mitigates and perpetuates. Maybe there's no universal, static answer to these questions. (Maybe my questions are naïve.)
The Downtown Eastside neighbourhood is much more surreal and intense in real life than in books and videos. It isn't just a backdrop against which addiction and poverty play themselves out. It's an intrinsic part of the addiction and poverty.
Do you remember that woman in Florida who broke her leg and literally stayed on her couch for six years, until eventually her partner called 911 and the paramedics had to cut out a wall and take her and the couch to the hospital because the fabric of the couch had fused with her skin? That's kind of how the Downtown Eastside struck me, only less domestic and more feral. A grotesque fusion of people and place.
(And what's worse, separating the person from the couch, or leaving her there? For the record, the woman died after being surgically separated from the couch.)
To its credit, the Downtown Eastside is not an assortment of individuals suffering miserably in isolation from one another. It's a very small, densely populated neighbourhood, and everybody seems to know each other. Collectively they're a community, along with the people and services that support them. Many of them seem to share a sense of belonging there, and would probably be worse off elsewhere. (Which isn't to say they necessarily belong there forever; but at this juncture in their lives, it's possible that the worst place in the world may be the best place in the world for some of them.)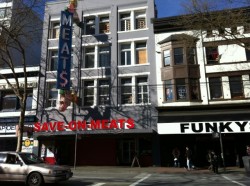 The neighbourhood, by the way, is vigorously defending itself from gentrification. Vancouver's a very expensive city, and this little piece of the downtown core would be worth a fortune if it were upscaled. But the fact that its residents are resisting gentrification makes me think that, on some level at least, they choose to be there. (Is it only because there's nowhere left to go? Or is there more to it than that?)
When I was an addict in Ottawa, my community was critically important to me. We weren't just a bunch of addicts, we were human beings with qualities and flaws and personalities. I'm sure my community around Bank & Gilmour held little appeal for outsiders looking in, but I felt connected and comfortable there. I was at home. I reminded myself of this as I walked through the Downtown Eastside…it's the same principle, just more extreme.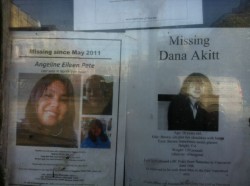 As a former addict, I can't look at the residents of the DTES without thinking "There but for the grace of God…" And the only way to protect myself from the implications of that thought is by speculating that there must be something intrinsically wrong with them that isn't wrong with me. Something that doomed them to – and protected me from – cataclysmic failure.
While that might be true in some cases, I don't believe it's true in general. There's a complex web of factors influencing our paths through life. Genetics, family environment, mental illness, pre-natal conditions, structural disadvantage, abuse, racism, poverty, neglect and on and on. Some people's addictions start out as survival strategies in the face of something even worse. Some people are more resilient for some reason. Some people just like taking drugs and living on the edge. The fact is, everybody's got a unique story, and while there are recurring themes that can't be ignored in the stories of addicts, you can't generalize. And you can't entirely discount luck either. Good luck or bad luck.
Most of us are doing the best we can with what we've got. And maybe that's the case for people in the Downtown Eastside too. Maybe it's even
more
the case for them.
In a society where more money means more options, is it possible that the severely impoverished, addicted, disenfranchised and mentally ill have any choice left in anything? They've sunk to the bottom and they've not only stayed there, they've carved out a niche for themselves, squatting in the squalor and the misery. They've become part of it.
Maybe the only way they can cope with the reality of their circumstances is by perceiving themselves exclusively within the context of that reality. We all form our own ideas of what's normal from the environments in which we live. If you're addicted, mentally ill and poor, maybe the Downtown Eastside's context of addiction, mental illness and poverty allows you to feel normal, whereas no other place possibly could. Maybe it's the only place you can fit in and feel you're not at the very bottom of the heap.
Ultimately, why does it matter if the DTES's residents have any choice in where or how they live? Because I'm not sure it's okay to force people to live under those conditions if they are powerless to leave. On the other hand, if this is where and how they choose to live, I don't think it's okay to kick them out of their own neighbourhood. Aren't they entitled to take up a little bit of space? To have access to basic services? To belong somewhere?