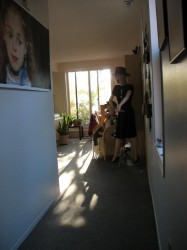 This is a picture of my apartment on Sunday. Debbie looked around and said, "Don't you think you should start packing? You're moving in a few weeks and you have a lot of stuff."
Yes. Well. I'm scared of my dog. Last time I packed and moved, he went insane and drove me insane. He's been on anti-anxiety drugs and anti-depressants ever since the last move, but I don't want to trigger a relapse by packing.
But still, Debbie has a point. I do have to pack.
She picked up a few boxes for me at the liquor store. And a friend brought me some more. And my neighbour out back tossed a few dozen excellent boxes over the fence for me – she scrounged them from another neighbour's garbage. Another friend left a message on my machine yesterday giving me coordinates for the motherlode of boxes (but he forgot I don't have a car).
On Sunday night I packed the first box. See?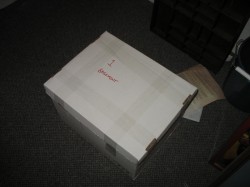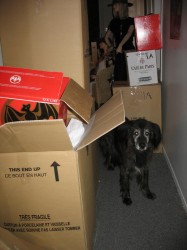 Now I've got 20 boxes and 2 bags packed. My apartment is full of packed and unpacked boxes, and my dog is starting to look distressed.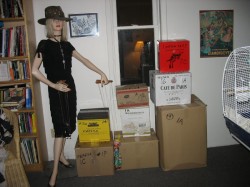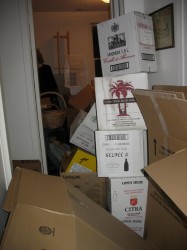 I think I'm starting to look distressed too. I don't want to move. And since I have to move, I wish it was over already. I'm pissed off at myself for feeling bad about something I want to feel good about. I went to a lot of expense and trouble to create this change in my life and I want to be excited about it. Instead I'm feeling homesick for the apartment and neighbourhood I'm leaving, and fearful that I've made a colossal mistake.
I know I'm being a big weanie. Finslippy moved from Brooklyn to New Jersey in the springtime, and I think she still regrets it. (I realize moving from Chinatown to Carlington isn't quite the same, but I'm using Finslippy for purely illustrative purposes here.)