I may have mentioned before I'm not a shopper. After about half an hour of shopping, I get Mall Fever: a combination of lethargy, options paralysis, depression, and a feeling of being both overwhelmed and underwhelmed simultaneously. I don't like to leave empty-handed, though, because then I will have subjected myself to Mall Fever for nothing.
So it might seem odd that I went cross-border shopping this weekend. And in fact it IS odd. I think I've only done it once before, years ago with my sister, and we were unimpressed with the prices and came back almost empty-handed.
I'm not sure what inspired me to go shopping this time. Something to do with the dollar surpassing the US dollar, something to do with learning Christmas is only six weeks away, something to do with getting swept along with the crowd.
I was able to pursuade a friend to join me, even though he is even less of a shopper than me. We had both read Kelly Egan's cross-border shopping column and took to heart his advice about not arriving at the border mid-morning on a Saturday.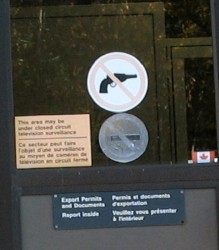 He picked me up bright and early Saturday morning, and we arrived at the Hill Island crossing well before mid-morning. It was a 40-minute wait to get through the border. I liked the "No Guns" and "No Smoking" pictograms.
"How long are you staying?" asked the guard.
"Just till tomorrow," we said.
"Do you have a reservation somewhere?"
"No."
"Good luck," said the guard, "All these other people are going to the same place as you, and there's only so many rooms in Syracuse. People are telling me they had trouble making reservations because the hotels were booked solid."
The first thing we did when we got to Syracuse was find accommondations, which turned out to be no problem at all.
Then we went shopping!
So apparently this Carousel Mall is supposed to be really hot shit shopping. And judging by the throngs of shoppers who were there, you'd almost believe it. All these people can't be wrong! It's gotta be a shopping paradise!
Well, three hours later, after dragging ourselves from store to store and asking ourselves "Is there anything here we even kind of want to buy?" we were burnt out and discouraged. I had purchased five bars of glycerin soap from The Body Shop for $12.50. My friend hadn't bought anything. The soap was marginally cheaper than it was in Canada, but once you factored in the price of gas and accommodations and meals, this soap was working out to about $50 a bar.
We knew we had to buy more stuff to bring down the cost of the soap. But we couldn't find anything worth buying. The Syracuse Mall was filled with crap. All the clothes were made of acrylic, which is not designed to withstand laundering. There were almost no books in the bookstores – just calendars and CDs and greeting cards and Christmas ornaments. Most of the merchandise in all the stores seemed cheap, ugly and poorly made in China. The prices weren't impressive either.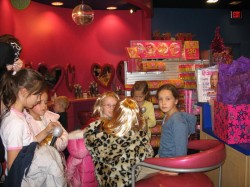 There were a couple of interesting stores that we don't have here. There was a creepy beauty salon/merchandising mecca for little princess girls, called Libby Lu. Everything was pink and acrylic and celebrity-inspired. I went in and took pictures, which made my friend a little uneasy because if a man were to go in there and take pictures of little girls, someone would probably call security. And he was only one step removed from that, being a man with a woman who was taking pictures of little girls.
Eventually we got exhausted and thirsty and some of us got a little bit cranky. We decided to go to the food court for a bottle of water, then hit the Bath & Body store for some things I had been considering buying, and then go to the other mall in the hopes it might be better. Which is what we did.
The other mall was a carbon copy of the first mall, except it had fewer stores (the same stores though) and fewer shoppers. We wandered aimlessly about, didn't buy anything, and left.
Over dinner at Tully's (where we had a charmingly slow-witted waiter named Kenny) we pondered the great mysteries of the universe, like why does everybody else think Syracuse is such a wonderful place to shop? And is Cross-Border Shopping one of those Naked Emporer things? And could shopping be considered a legitimate hobby, since some people do it recreationally every single weekend?
We decided that we could not bring ourselves to return to the Carousel mall the next day, so we would drive to Waterloo, 50 miles away, home of the famous Waterloo Outlet Mall. I was re-energized by this decision, since there is a Coldwater Creek at the Waterloo Outlet Mall.
Cross Border Shopping, Day 2
We ate the hotel's icky complimentary breakfast then hit the road. After a little bit of getting lost in Waterloo (which is the birthplace of both Women's Rights and Memorial Day), we found the Outlet Mall. Interestingly, it's kind of a gigantic strip mall – you have to go outside to get from one store to the next. But there are an awful lot of stores, and most of them are huge.
The first thing I bought was a little food processor for $10. I've been meaning to replace mine since it broke about five years ago. I also bought a kitchen timer in the same store.
Then I bought underwear.
I started loosening up at Eddie Bauer's and got into a bit of a shopping groove: I bought two pairs of jeans ($39 each; they're $75 here in Ottawa) and a bunch of shirts and stuff for $7.99 each.
At Coldwater Creek I really hit my shopping stride. I was touching things and trying things on and even trying on things I wasn't sure about. The "keep" pile was pretty big. Everything was on sale – 20 to 70% off the lowest marked price. I bought tons of stuff and it came to $168.
Next stop: Liz Claiborne. Everything in the store was on sale for $9.99, except blazers, which were $19.99. But the place was a nuthouse. There were clothes all over the floor and huge lineups, and I just wasn't in the mood for the kind of fast fierce shopping that was going on in there. We didn't stay long (but I did get a pair of jeans for $9.99).
Then there was Reebok, Rockport, Nike, Geoffrey Beene, and on and on and on and on. Until finally, after five hours of shopping, we were spent and we figured we'd sufficiently lowered the unit cost of the five bars of soap, so we left.
It took us about an hour and fifteen minutes to get through the border and customs – 30 minutes in the car, and 45 minutes in the tax lineup. The customs office seemed like a model of inefficiency. First you have to line up to have your receipts tallied and your total taxes calculated. Then you have to line up to pay your taxes. Why can't the agent who calculates your taxes also take your tax payment?
I spent about $500. My friend spent $13 on a cast iron frying pan. When you take into consideration the cost of accommodations and gas and meals, I doubt very much that our cross-border shopping trip was cheaper than shopping here in Ottawa.
But if you're going to do it, here are my recommendations:
1. If you don't like malls, stay out of the malls. A mall is a mall is a mall, no matter how far you travel to get to it.
2. But Outlet malls are better than regular malls.
3. If you're going to stay overnight, shop around and book ahead.
4. If you're boycotting China, don't go shopping. Everything is made in China. There are no exceptions.