Okay! I just got back from the laundromat, where I washed the duvet in a super-industrial front-loading washing machine which only takes quarters – eighteen of them.
Duncan went to the vet yesterday and she believes, as most of you do, that his peeing on clothing and the bed is a reaction to GC and TD (The Dog). She recommended letting Duncan get used to GC first before re-introducing TD very slowly and gently.
She also recommended Feliway, which is a kitty aromatherapy product, and she gave me some cleaning tips (ie never clean up cat pee with bleach or ammonia-based products or vinegar, because those products will remind the cat of pee and make him want to compete with them by peeing on them). (Cats are so complicated.)
The vet sent Duncan down to the basement with Jessica, the vet tech, to get a urine sample, so she could rule out urinary tract infections and crystals in the urine, which are both common causes of inappropriate urination in cats.
Jessica returned empty-handed several minutes later and said "I can't get my hand around it." I have no idea how they collect urine from cats, but this statement gave me pause.
So the vet went down to the basement to see if she would have better luck. She returned with Duncan but no urine sample. "I couldn't get it," she said, "because he's too fat."
How rude is that??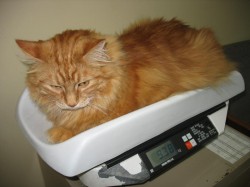 She then weighed Duncan, who has gained almost a pound since January*, and declared that he Must Lose Weight. Expensive diet foods were discussed and caloric calculations were made. I decided that we would tackle the diet after we've solved the other problem. First things first.
I was sent home with instructions to collect the urine sample myself. The method? Empty the litterbox. Wash it. Dry it. Sprinkle two little containers of non-absorbent kitty litter (provided by the vet) in the litterbox. In the morning, pour the urine into an empty container (provided) and deliver it to the vet. This method of couse depends on the cat's willingness to use the facilities rather than the bed, and fortunately Duncan cooperated. The sample is being analyzed as we speak. I should know more before the day is out. (Remember when I had to collect a urine sample from my dog, Sam? That was a completely different procedure.)
Meanwhile, Duncan has not peed anywhere else that he oughtn't. I keep my bedroom door closed during the day so he won't be tempted. (The bedroom was the scene of the crime in both cases.)
I have no choice but to solve this problem as quickly as possible because I can't live with the smell of cat pee everywhere, and I can't live without Duncan.
Your comments, by the way, were so insightful and interesting. And some of them were hilarious.
*9.38 kg = 20.6793 lb
OR 20 lb and 10.86 oz
TAGS: