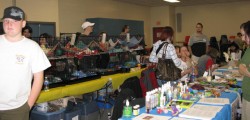 I'm pleased to report that this year I finally managed to make it to the Ferret Frolic, which was held indoors at the Jack Purcell Community Centre yesterday afternoon!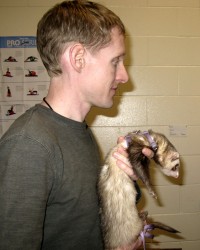 If you're not familiar with ferrets (and really, why would you be, unless you play Dungeons and Dragons?) they're kind of weasly-looking things with elongated bodies and tiny limbs, and they smell funny. They've been compared to polecats, but I don't find that comparison particularly useful since we don't get a lot of polecats around Ottawa.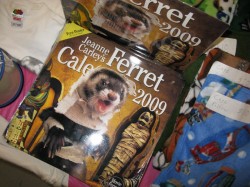 Ferrets are inquisitive and busy and their owners seem to really, really like them. A lot. It's almost unnatural how much they like them. Not that there's anything wrong with that, of course. I think everybody should like their pets a lot. It's just a bit weird is all. There's this whole freaky ferret subculture out there.
Okay, so what happens at a Ferret Frolic? Well, ferret owners brings their ferrets and they have a mini ferret fair with booths and displays and services and ferret games and contests and stuff.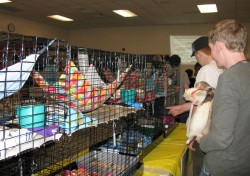 There are cages of adoptable ferrets from the Ferret Rescue Society . However, there are no adoptions permitted on Ferret Frolic Day. I assume this is because they want to discourage impulse ferret shopping. (I wasn't seized by that particular impulse.)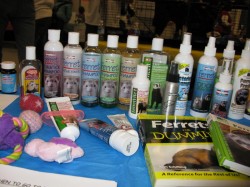 There are lots of ferret things for sale at the Frolic, like ferret harnesses and carry bags and magazines and slings and books and ferret health and beauty grooming aids and calendars.
There was a guy who spoke into a microphone about ferret health for a very long time. He said things like "And now I'm going to tell you about some exciting news about Adrenal Gland Disease."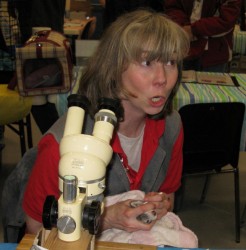 There were some practical health services available. For example, you could pay this Ferret woman to clean your ferret's ears. There was a ferret toe-nail-clipper guy too.
There were plenty of frivolous ferret activities too.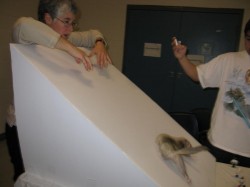 This one struck me as kind of odd. It's a ferret toboggan. You pay a dollar and a volunteer throws your ferret down a steep slide. At the bottom of the slide there are figurines, and your ferret can crash into them and knock them over. I'm new to ferrets, and I certainly don't presume to know what they do or do not like, but I was a little skeptical about this particular game.
"Do you think the ferrets like that?" I asked a woman in a wheelchair who was waiting in the toboggan line with her ferret, Jack. She looked at me, and then she looked at Jack. She dangled his long wiggly body in front of her face and said "Do you like that Jack? Do you like it? Do you like the toboggan? Do you like it Jack?"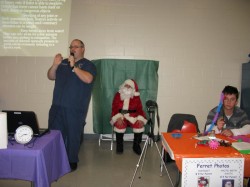 After a few minutes of this, I sidled over to the Santa Claus booth. For $5 you could get a photo of your ferret sitting on Santa's lap. He wasn't a very jolly looking Santa, and there wasn't much demand for his services. Perhaps all the ferrets had already been photographed with Santa by the time I got there.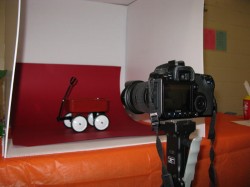 There was another photo booth too, where you could get a picture of your ferret sitting in a little red wagon. I wanted to get a nice blogworthy picture of a ferret in the little red wagon, but nobody was getting that done while I was there.
There was also a gift-wrapping contest. For a dollar, they'd wrap up your ferret and then they time him to see how long it took him to unwrap himself.
Here's a ferret in a hand-knit sweater, checking out my shoe.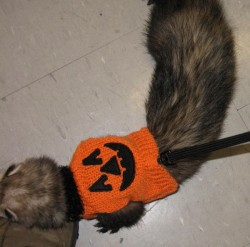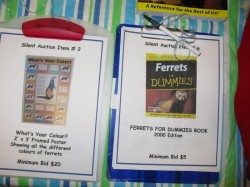 There was also a silent auction, with proceeds going to the Ferret Rescue Society.
There was a playroom, with mazes and ball tubs for the ferrets to play in.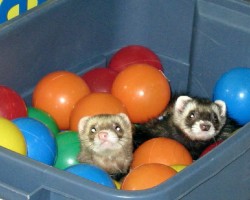 All that frivolous frolicky ferret fun wore these two little guys out. I bet exhausted ferrets all over Ottawa were taking advantage of that extra hour of sleep last night. I know I did.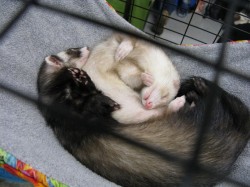 This is actually one of the things I love best about living in Ottawa. There are weird quirky things going on all over this city every weekend. Even if ferrets aren't my thing, I love knowing that some people are passionate enough about ferrets to create an event especially for them.