Okay, I did it. I met with the investigating officers from the Professional Standards section of the Ottawa Police regarding their investigation into the events that led to my Bank Street Bully post. They interviewed me quite thoroughly this afternoon in my living room. (I requested that we meet here because of the bus strike). I gave them uncropped full-rez copies of the photographs I took that afternoon. The investigation could take up to six months, and they'll let me know how it turns out. I would encourage other witnesses to come forward, especially if they witnessed what transpired while the woman was still conscious.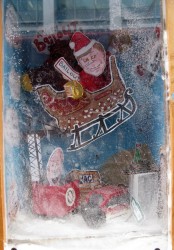 Meanwhile, back on the artistic streets of Ottawa, look what popped up at Bank and Slater. It's a 3D street art installation. It's got Harper as Santa, Layton as the Conspirator, Mayor Larry as Cap'n Zero, Insite (Vancouver's safe injection site) as the Scapegoat, Parliament Hill with a big closed sign on it, André Cornellier (the bus drivers' union prez), and more. (When you think of all those things together, you realize Ottawa's quite a mess these days, eh?)
Speaking of a mess, my photographs of this piece were horrendous. Shooting through scuffed plexiglass in bright sunshine must require some special technique. Anyway, this one's the best of a bad lot, but it gives you all the more reason to go see it for yourself. It's on the south side of Slater, just east of Bank Street.
In other news: I'm on holidays!
In other news: I bought the Mac! (This post, however, is coming to you from the PC.)
TAGS: