Raw Sugar, the new coffee shop at the corner of Somerset and Cambridge, has been sockin' it to me lately with its funky vintage decor straight out of my childhood, and its owner's brilliant ideas for special events.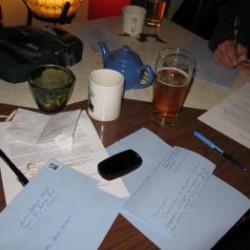 Last night we went there for a special event called My Baby Wrote Me a Letter. Nadia, the owner, teamed up with Lindsay Orr, the owner of Linden Tree, a new paper store in Westboro, to offer an evening of the dying art of letter-writing. Basically, for $5 they provided stationery, envelopes, pens, stamps and coffee, and everybody sat around at Raw Sugar's funky kitchen tables drinking coffee with friends and writing letters to other friends.
Isn't that just the coolest retro thing you ever heard of?
I wrote three letters. The first was to Sadie. She's my Dad's wife's mom, and she's 93 years old. The second was to my 8-year-old niece Arrow in Wolfville, Nova Scotia. And the third was to two-month-old Connor in San Diego, who would have been my common-law step-grandson if I'd stayed with my son's father. (Figure that one out. Ha ha.)
If you know any of these people, please don't tell them I wrote them a letter, because I want it to be a surprise.
I used to be a prolific letter writer back in the day. Throughout my childhood I corresponded regularly with my grandfather. I also had a penpal in Korea; we met through a stamp collecting magazine. My best friend in high school, Astrid Petersen, moved back to Germany when we were 17, and we exchanged hundreds and hundreds of letters over the next few years. I kept all her letters. I wonder if she kept mine?
Aside from last night, I can't even remember the last real letter I wrote. Email's so much faster and easier and you don't have to think about stamps or the handwriting factor. But I really had such a good time writing my letters last night that I might try to build letter-writing back into my life. I especially loved imagining the recipient opening her mailbox and finding a genuine, handwritten letter with her name on it. It's such a rare treat these days. So rare, in fact, that some children might go through their entire lives and never experience it.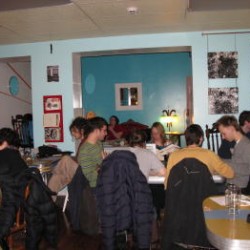 You know what else was cool about last night's event? Celebrity sightings! The first people we saw when we arrived were Nik from Kill Everything and Green Colander. They were writing letters too. They told us that only moments earlier, Jo Stockton had vacated the very same table GC and I had chosen. Later in the evening, we're pretty sure we saw Michael Bhardwaj trying to buy a cup of coffee. And then, just as we were putting the finishing touches on our letters, we invited three strangers to share our table since the place was full. It turned out that one of them was Sky Pilot's person. (Don't you think it's funny that in a brief conversation with a total stranger, it would come to light that I'm friends with someone who knows her cat?)