I started this weekend with a Friday-night MRI at the Civic. I got the 'quiet' machine this time. They have one noisy old clanger (I got that one the first time) and one more subdued, newer machine. It's still noisy, but at least it's not unbelievably noisy. I was more than eager to get out when it was over, but interestingly, the headache that had been pounding my skull for two days got sucked out of my head by the giant magnet. Or something.
They inject a dye during the MRI, but they can't use my right arm anymore for IVs and blood-taking, because my nodes have been removed on that side, so there's a risk of lymphedema. I've always been a bit of a challenge for nurses and phlebotomists, but now it's getting ridiculous. My left arm has clever, skittish veins that hide when they see a needle, and retreat and collapse when poked. I got poked five times on Friday night – four times by a technician, and once by an ER nurse who was eventually summoned to deal with me, and also to deal with the woman next to me who was having similar problems, only hers were compounded by a needle phobia.
The MRI took over two hours from beginning to end, which cut deeply into our plans for the evening. We ended up just doing drive-throughs at both Octopus Books' 40th birthday party and Raw Sugar's first birthday party. By then we were famished and we went to the highly recommended 24-hour Elgin Street Diner for a late-night snack.
Saturday morning we went to an art show (Art Expo) which was very good. In the afternoon I had my complimentary facial at Oresta's, which left me feeling almost woozy with relaxation.
Saturday night we went to a Halloween party.
Normally I don't do Halloween parties. I can't get myself together for it. It's too hard. But the stars were aligned this year. I found out that my favourite band in the whole world, Astronaut Love Triangle, was going to be performing at this party. Then, David Scrimshaw posted something soothing about Halloween party costumes. Then, with the pressure reduced, my sleeping brain actually came up with a costume idea.
My costume was a sandwich board of two blank canvases. GC wore a beret and an artist's smock with pockets full of paintbrushes and magic markers. I was an interactive and collaborative work of art in progress. Other party guests were invited to use GC's tools to work on me, and many of them did.
The extra added bonus is that I now have two pieces of art to hang on my walls, created by beatniks, cowgirls, cabaret dancers, nuns, sexpots, variations of the swine flu and various other assorted creatures.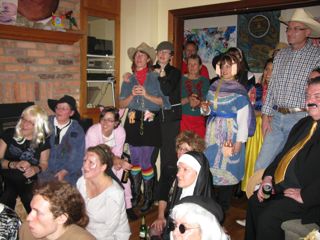 The party had everything you could possibly want in a party: interesting guests, dancing, food, wine, excellent live music performed by heavily made up almost-naked people, and Astronaut Love Triangle, amplified! They only performed four pieces, and I wanted much, much more, but they were brilliant as always and the crowd loved them.
We couldn't stay late because Nanowrimo was starting at midnight and we had novels to write. I wrote just over 3,000 words on Day 1. I'm much happier with the quantity than the quality, but that's about what I expected. (What I didn't expect was for the book to completely ignore its outline and go off on a tangent of its own. I don't know whether to try to rein it back in or to follow its lead.)