It was a busy weekend, taken up largely by work and a sick dog, but GC and I found time to go on a couple of the Jane's Walks this weekend.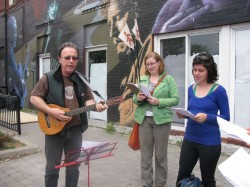 On Saturday we went on the Folk Walk, which was led by Arthur McGregor and took place in the area around his store, the Ottawa Folklore Centre, in Old Ottawa South. (He's trying to get the neighbourhood renamed to Sunnyside Village, by the way.)
He told us that when the City tore up the roads to replace the aging underground infrastructure, they agreed to embed brass plaques in the new sidewalk. Each plaque is in the shape of a maple leaf, and bears the name of a Canadian folk music legend, such as Bruce Cockburn or Stan Rogers.
We walked from plaque to plaque, and at each plaque Arthur would tell us a little bit about the person, and we'd sing one of their songs. (Arthur brought his guitar and lyrics for all of us.)
There were about 20 of us on this walk, which lasted about an hour and was a lot of fun.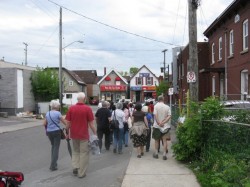 On Sunday we went on the Chinatown walk, which was led by local blogger Jackson Couse.
Chinatown is one of my favourite neighbourhoods. I lived there for eight years.
Jackson not only lives in Chinatown, but he grew up there. He focused his walk on the kind of childhood this neighbourhood provides. He talked about diversity and density as being key ingredients of a good childhood, and how Chinatown provides both those things. (There was a third thing too, but I forget…)
We started on Cambridge Street, which in the unofficial blogging capital of Ottawa. That's where all the cool bloggers live, and where I aspire to live someday.
We then went up above the bluff, where Jackson showed us a rock wall in a small green space that technically belongs to the nuns, but which was a key feature of his childhood. He often went there to be alone.
Children need green space. They need trees and dirt. Give them half a dozen trees and they'll use their imaginations to transform it into a full-fledged forest. This particular neighbourhood – Chinatown, or West Centretown – has very little green space (.01km2 per thousand people, which is half the Ottawa average).
Then we walked along upper Lorne Avenue, where he pointed out my friend Julia's house, and then along Somerset to Booth, where he talked about some memorable and tragic fires in the neighbourhood, attributable to a combination of factors such as slum landlords and balloon construction.
From there we headed down to the low-income housing project on Gladstone, and walked through it. The children stared at us wide-eyed, since they don't often have groups of fifty people marching through their little neighbourhood.
Then we headed over to Cambridge School, which is probably one of the most multicultural schools in Ottawa.
I liked how Jackson approached his walk, through the eyes of a child. I also liked his genuine appreciation of the neighbourhood's ethnic and economic diversity.