I spent yesterday morning at City Centre, getting trained for a one-day job. I'm going to be a registration officer on election day, registering voters who aren't on the voters' list.
Here are some things about the job:
1. It's only one block from my house.
2. It's a 13-hour day with no breaks, so I can't go home for lunch.
3. I can bring my lunch and dinner with me, and eat when I'm not busy.
4. The dress code explicitly prohibits me from wearing red, green, blue or orange clothing.
5. I can bring a book to read during the slow times, but it can't be a book about politics or written by a politician, even if it was written in the 1800s. I can't bring a newspaper or a laptop. I can use my cellphone, but not the camera in it.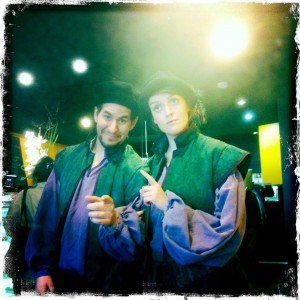 After the training I was walking home through Hintonberg, and some friendly fools from A Company of Fools urged me to go into the brand spankin' new AlphaSoul Cafe, so I did. It had only been open for a couple of hours. It's bright yellow and aubergine and it was full of people and balloons. I had a cup of above-average coffee and chatted with a couple of people, including my MPP, Yasir Naqvi.
I understand the AlphaSoul Cafe (1015 Wellington, right next to Hino's Japanaese restaurant) is going to have live music in the evenings, and it'll also be a venue for cultural events like the Hintonberg Writers' evenings. I wish it was in MY neighbourhood!
I lived on Irving Avenue in Hintonberg in the 80s and again in the 90s. As recently as a couple of years ago, I used to walk through Hintonburg every day on my way to work. Now I just pass through once in awhile on my way somewhere else. But yesterday I noticed what a vibrant little village it's becoming. All kinds of trippy stores and restaurants and interesting places to check out. Some day when it's not raining I'm going to go spend the whole day exploring Hintonberg.
---
In other news, today is Baskin-Robbins 31-cent Scoop Day. Go to any Baskin-Robbins between 5:00 pm and 10:00 pm, and treat yourself to an almost-free ice cream cone. It's a fundraiser for the Canadian Fallen Firefighters Foundation. There'll be fire trucks and everything. We went last year, and the lineups were crazy at some of the locations, but the one on Bank Street near Heron didn't have a lineup.