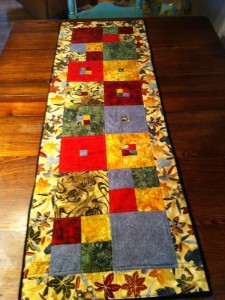 Bonnie asked for it, and here it is! This is the table runner that GC made for his mother. Isn't it stunning?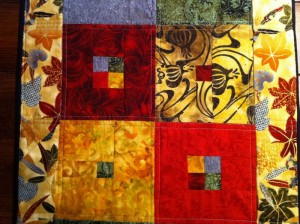 I've included some close-ups of some of the detail. His original plan was to make a table runner with an Asian motif, since that's his mom's decorating style. It was interesting how he chose the fabrics and later went full circle on his choices.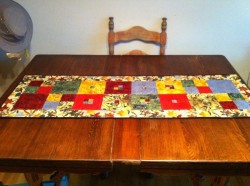 Actually, it wasn't so much a choice of fabrics, as a negotiation with the Running Stitch staff, in which he and they engaged in an impassioned debate about each individual fabric and whether it was Asian and whether it would work well with the other fabrics, until they finally all agreed on this combination.
GC later suffered a wicked case of buyer's remorse as he started cutting and sewing, but by the time he was all done, several weeks later, he was very happy with it.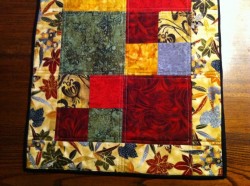 I love how he can be just as passionate about fabrics as the experts are. Me, I tend to defer to them, since I struggle with decisions when there are too many options. I'm impressed – and frequently amused – by the arguments he'll make for or against the inclusion of a particular fabric.
The quilt store staff seem to love this part of their job – choosing and combining fabrics – for both the creativity and also the sport of it. The amazing thing is how this process tends to produce such incredible results.
---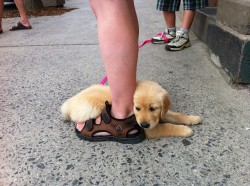 Here's something else I forgot to show you from the weekend. This little puppy, whose name is Marley, was hanging out on the main street of Perth with her peeps. I think they said she was six weeks old, or maybe eight. She was adorable and nobody could walk past her without stopping to fall in love. She tucked herself in between my feet and took a little break from the world. If she'd fallen asleep, I would have stayed till she woke up, rather than disturb her. That's how sweet she was.
GC said she looked exactly like Logan at that age.