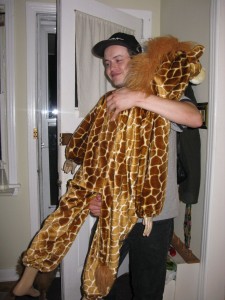 We celebrated my son's birthday on Saturday night. He came over for a barbecue and birthday cake. We gave him a boy mannequin wearing a giraffe costume for his birthday. (He collects giraffes.) Here's a picture of James and his birthday present leaving at the end of the evening. I told him he had to support the mannequin between the legs when carrying it, otherwise it might separate at the waist. He did it, but he said it felt wrong.
---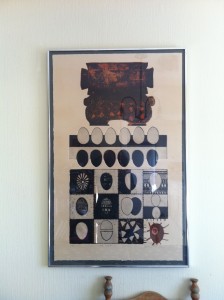 I've been meaning to post a picture of this great piece of art I picked up at a garage sale in Sandy Hill a few weeks ago. Odyssey Theatre was having a garage sale, but I got this at the garage sale across the street from their garage sale. It's called Egg Log 1, and it's print #2 of 30. The artist is Mary Davies. Sometimes I buy art and within a few days (sometimes hours) I'm suffering from buyer's remorse. But not this time. The more I look at this one, the more I like it, and I liked it a lot to begin with.
What else is new? I made a curtain! I bought some fabric at Value Village last week for $2.99 with the intention of making a new bathroom curtain. I don't think I ever expected me to actually do it though. So you can imagine my surprise when I threw that piece of fabric into the sewing machine yesterday and turned it into a curtain!
---
Okay that's it for now. Hi ho, hi ho. It's off to work I go!