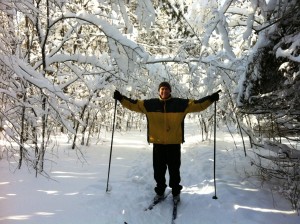 GC and I tried to squeeze lots of activities into our Christmas holiday, because the more you do, the bigger and fuller your holiday feels. Among other things, we went cross-country skiing a couple of times, out at Stony Swamp (Trail 26). It's gorgeous out there, especially under the canopy created by fresh snow on evergreen trees. It's like skiing through a magic tunnel.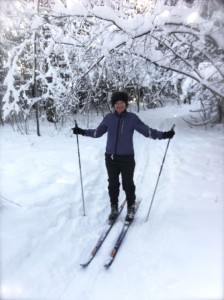 One of the things I like best about cross-country skiing is you get to play outside in the winter woods, but you're comfortable and warm.
The other thing I like about it is that if you go in the morning, you feel virtuous for the rest of the day. I like feeling virtuous.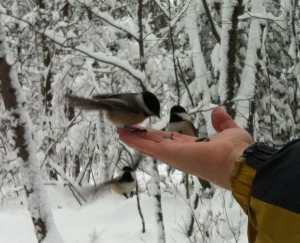 As if to make things even more idyllic than they already were, a deer frolicked across the path right in front of us, and chickadees landed on our outstretched hands. We felt like Saint Francis of Assissi and Snow White. All we needed was seven little monkeys in faux shearling coats.
Tomorrow I go back to work after eight days of Christmas holidays. I've got the Sunday feeling big time today. Sigh.