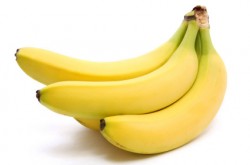 You know how everybody has distinct preferences when it comes to buying bananas? For example, my homeless friend Dave X likes his bananas "lightly freckled." I prefer mine still tinged with green. Because of that, I only like to buy three bananas at a time.
Which brings me to a dilemma.
When I'm choosing bananas, I rarely see a bunch of three green-tinged bananas. There will be a bunch of five green-tinged bananas, maybe, or three lightly-freckled bananas, but rarely three green-tinged bananas.
I was brought up to believe it is wrong to tamper with the banana bunches. You choose the closest thing they've got to what you want, and you buy it.
GC, on the other hand, is a banana bad-ass. He cheerfully breaks the bunch of bananas in two in order to get what he wants. He even does it right in front of the produce man! I always pretend I don't know him when he does that, because breaking the bananas is just as bad as sampling the grapes! I'm pretty sure GC would never sample a grape in front of the produce man, but he insists breaking the bananas is perfectly okay.
Maybe he's right. What do you think? (If you're reading this in a feed reader or email, you'll have to come over to knitnut.net to vote.)