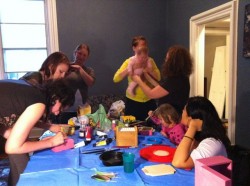 The art-making party for Elmaks was wonderful and fitting, and the service the next day was lovely.
I don't usually say funerals are lovely, but this one was. His art decorated the room, and several pieces from the art-making party the night before were there too. (Not mine. I'm still working on mine.)
There was a memorial video of photographs of Elmaks from the beginning to the end of his life. There were pictures of his art and some of his swap boxes. Even the pictures of him with Duncan and Oboe were included.
During the service, people were invited to get up and say a few words, and many of his close friends did so. I loved the stories. There was much laughter and many tears. Elmaks had so many good friends who knew him well and cherished him; he obviously didn't suffer from a lack of love.
My friendship with Elmaks was mostly online. We'd only met in person four or five times, so there was much I didn't know about him.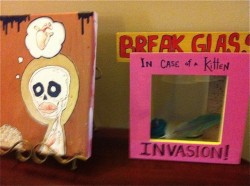 I knew he adored kittens and babies and birds and art, and that he cared about people and politics and the kind of cities and world we are collectively creating. I knew he was smart and creative and unique. I knew he loved puns.
But I didn't know he loved to cook, and that he spent many, many volunteer hours at the Garden Spot, cooking and feeding people. I didn't know that he used to be a Page in the Ontario Legislature. I didn't know of his fondness for pirates, piracy and parrots. I didn't know he adored cats so much he was incapable of leaving them alone, and therefore he became unusually adept at handling pissed-off cats. I didn't know he once brought his friend Jadis a dead fish wrapped in newspaper and said "Look, it's the mayor!" (Apparently it had a cigar in its mouth and it looked remarkably like mayoral candidate Terry Kilrea.)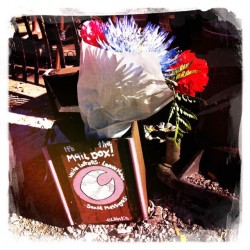 I still don't know why he killed himself. It seems important somehow to try to understand. I did learn that he had known for some time he was going to do this, and he didn't want to be stopped. That knowledge provides some comfort, though I still wish I knew why he didn't want to live any longer. He had so much potential and so much love in his life.