I have a cold and it's making me uncharacteristically irritable. Little things are getting to me, like slow web sites, and  disappearing menu bars in my browser, and Rosie's squeaky toys. (I've never met a dog who likes her toys as much as Rosie, and especially her squeaky toys, which she likes to chew hard and fast so that they'll squeak louder and faster.) I'm also grumpy because I caught the cold from GC and he only had it for three days whereas I've had it for six so far, which doesn't seem fair.
What else? The weather. Doesn't it seem bizarre that winter is following spring this year? That first snowfall, a week or two ago, was lovely and charming and when I went for a walk that evening I was reminded of why I love being Canadian. But now I'm sick of it already, all the wind and slush and ice and cold.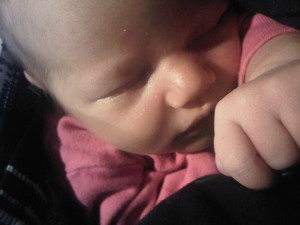 On the bright side, my niece Kati had a baby last week! Her name is Sienna (Sisi for short) and she weighed 7 pounds, 10 ounces. She was due on February 25th, and I was hoping she'd be late so we could have a Leap Day baby, but she arrived on February 28th. (Her mom was hoping she'd come early, like maybe in January, so there ya go.) GC and I have been working together on a quilt for her, and we're almost done.
Isn't she lovely? I think she looks like an activist here, with her fist up in the air. Power to the babies!