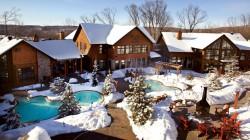 GC and I went to the Nordik Spa up in Chelsea. It's about a 20-minute drive from downtown Ottawa. Neither of us had ever been there before, or to any spa for that matter.
We went for The Baths, which are a set of indoor saunas and outdoor pools of varying temperatures. The recommended technique is you do a hot treatment, like a sauna, for about 15 minutes, followed by a cold treatment, like a plunge in an icy outdoor pool for 10 seconds, followed by 15 minutes in a relaxation area. The relaxation areas include comfy chairs by a water fountain, little pavilions with reclining chairs around a fireplace, heated stone beds and hammocks. Rinse and repeat as often as you like – hot, cold, relaxation. We stayed about four hours.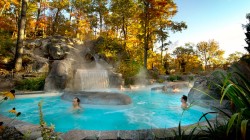 It was mostly couples and small groups of women. We were told upon arriving at 2:30 on Friday afternoon that we might have to wait up to an hour and a half to get in. We almost left, but we decided to stay. We sat on a couch and made lists until our turn came (sooner than expected – we only had to wait 45 minutes).
My favourite thing was the outdoor hot pools. There were three of them, I think. One even had a hot waterfall. My least favourite thing was the ice-cold waterfall. Most people avoided it, but I double-dared GC to do it, so I had to do it too. GC liked everything. There was lots of variety, so we didn't get bored of the routine – there were wet and dry saunas, aromatherapy saunas, saunas in barrels, hot pools, cool pools, still water and running water. The relaxations areas were lovely and warm which was especially welcome after the cold treatments. We grew progressively more relaxed as the day went on.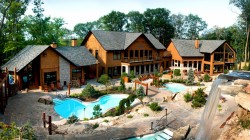 We didn't do any of the body treatments or the underground salt pools because they were extra busy and they cost extra money. Speaking of cost: it's $54 per person on a Friday or weekend, or $48 during the week, and $30 extra if you want to use the underground salt-water floating pool.
We figure it must have cost many millions to build the place, but judging from yesterday's crowds, it's probably a very lucrative enterprise. In addition to The Baths and the body treatments, they also have a boutique and two restaurants, and they rent white terrycloth bathrobes for $11. (Or you can bring your own, which we did. It was funny seeing people walking around in their frumpy old housecoats from home.)
Anyway, it was lovely and we'll do it again. Yesterday was a gorgeous spring day, maybe about 4 degrees Celsius, with lots of snow still on the ground. (These photos are from their website, not from our visit, by the way.) We're curious to know what it would be like in the summer, when it's hot outside. Somehow I think it would be better in cold weather than in warm. Have any of you been there in the summer?