Last year my friend Jane took advantage of the January White Sales and bought all new bedding. She raved about her new bedding. I was envious. All I had was a mattress protector, some thin sheets, some worn pillows, and an ancient threadbare duvet. Over the years, all the feathers in the duvet had migrated to one corner.
Being a pragmatic person, I did not rush out and buy all new bedding…I waited almost a full year for the January White Sales to roll around again. (That's on TOP of the 12 years since I last bought any bedding!)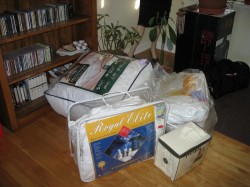 Last week I went to three different bedding stores: Homesense, Linen & Things and the one whose name I can't remember. I felt all the pillows and squished all the duvets, and inspected baffles and compared thread counts and so on. And then I splurged, even though the White Sales didn't seem all that impressive. This is the mountain of new bedding, sitting on my dining room floor.
I bought a down duvet, a flannel sheet set, new pillows and a feather bed! Then I re-built my bed from the bottom up, with layers and layers of bedding. First the feather bed, then the mattress pad, then the bottom sheet, then the top sheet, then the duvet in its duvet cover. Then I crammed the new queen-size pillows into the standard-size pillowcases, and I was done. The bed was much taller than it had been.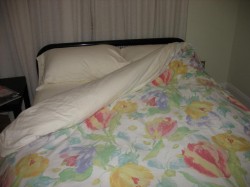 I didn't allow myself the luxury of climbing into the new bed right away, because anticipation is a big part of any good experience. I admired the bed, turned down the covers, and enjoyed several hours of anticipation. I folded the old duvet and put it on the floor at the foot of the bed for my arthritic, rickety dog.
When I finally climbed into bed…it was delicious. So comfortable, so cozy, so decadent, so warm. I slept well all night, and in the morning I felt a little extra resentment towards the alarm clock. The next night I went to bed at 9:20 instead of my usual 11:30, just because the bed was calling to me. (I find as I get older, I think of sleep as some kind of accomplishment. I used to think it was a waste of perfectly good living time, but now I feel oddly proud of myself when I sleep for eight hours.)
Anyway, the bed is wonderful. It makes me happy. I deserve such luxury, and so do you. If you hurry, you can catch the tail end of the January White Sales.
(As an added bonus, Sam seems to like my hand-me-down bedding. I love this picture of him all curled up in a blissful ball.)