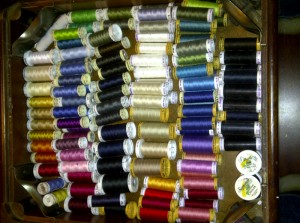 The machine quilting class on Saturday was taught by a thread enthusiast.
"I love thread!" she enthused enthusiastically.
"Thread technology has come a long way in the last ten years," she said. "I want you to forget everything you've ever heard about thread!"
Apparently I'd already forgotten everything I'd ever heard about thread, since I couldn't think of anything to forget.
She passed around various thread samples so we could all see and feel and experience the worlds of difference between cotton, polyester, silk, and all the permutations and blends thereof. I couldn't tell the difference between any of them.
But I now know that there is much to know about thread. Though I don't share her love of thread, I do appreciate her passion for it. Everybody needs to be passionate about something; that's what keeps us alive and motivated and happy. That's what gives us a reason to want to get out of bed in the morning.
Whenever I find myself between passions, I make it my first priority to find a new one.