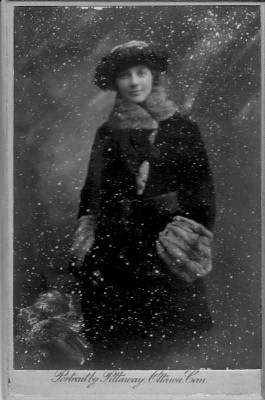 Given the unseasonably wintry weather in Ottawa this weekend, I've chosen this snowy portrait from a local photographic studio as the Antique Photograph of the Week.
The photographer, Alfred G. Pittaway, operated a portrait studio at 58 Sparks St. from 1890 to 1925. (He also had a studio with Jarvis at 117 Sparks St. before that. Sparks Street was the photographic pulse of Ottawa back then.)
I don't know who the woman in the portrait is. The only markings, front or back, say "Portraitly Pittaway Ottawa Can." But don't you just love her winter hat and coat and muff, and all that fake snow blowing around the studio? That was cutting-edge special effects at the turn of the century.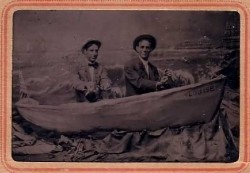 I can't leave you stuck in winter, so I'm throwing in a bonus image this week. Maybe this will remind you of summer. It's a tintype.
Tintypes were invented in the mid-1850s, became more common by the 1870s, and stuck around through the 1920s, overlapping with ambrotypes, cartes de visite and cabinet cards. I think I picked this one up at an antique shop in Nova Scotia about seven years ago. It says 1890 on the back, but that just might be an educated guess by the dealer.
This image – to me at least – represents a turning point in photography. People gradually stopped taking it so seriously, and started to loosen up a little and have some fun with it. Maybe that's because, with the advent of tintypes, photography was now accessible to the working class. For less than a quarter, you could have a picture of yourself. (A daguerreotype cost about twice that in the 1800s. Today the average dag sells for many times more than the average tintype.)
The tintype era is also known as the carnival period. Traveling photographers set up studio tents at public gatherings, such as fairs and carnivals. They provided painted backdrops of Niagara Falls, beaches, boats and other novelty props for comic portraits like this one.