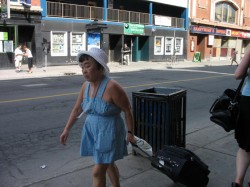 I'm so pleased I finally got a picture of this woman. I only regret that it happened in the summertime when she appears to be normal, which she's not. She's a lot hotter than she looks.
She dresses in this exact same outfit every day of the year.
It can be forty below zero with soul-shrivelling winds, and while the rest of us are wrapped in layers of down and still freezing our asses off, this woman will be strolling down Bank Street, pulling her cart, dressed in just her little blue sunsuit, with not a goosebump on her. No coat, no mitts, no hat, no boots. Just her little blue sunsuit. She is impervious to the cold.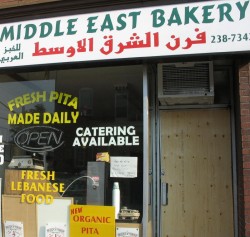 In other news, there was a fire at the Middle East Bakery at Somerset and Percy Street! According to the sign, they will be "temperaly closed."
I love this place. It makes the sidewalk smell good. Plus it's fun to look in the window at the pita oven spitting out the fresh loaves onto the conveyer belt. They come out in big bubble shapes, and flatten as they cool.
Actually I haven't stopped and looked in the window for awhile now, ever since the time the baker came outside and asked me on a date and I lied and said I was married. And I knew he knew I was lying, because I always look like I'm lying when I lie.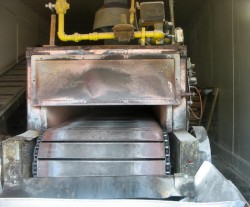 This is the pita oven, after the fire. It doesn't look too badly damaged. Actually it looks pretty much the same as I remember it looking before the fire.
I hope the fire doesn't affect the availability of pita bread in Ottawa, because I eat two pieces every day at lunchtime.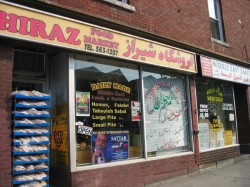 Speaking of the availability of pita bread, here's a puzzling thing. You see that store called Shiraz, to the left of the pita bread bakery? See the blue rack in front of their front door? That's their pita bread, which is delivered every morning from a bakery in Montreal. They have a pita bread factory right next door, yet for as long as I can remember they've been ordering their pita bread from Montreal.
I'm sure there's a perfectly good explanation. Just like there's a perfectly good explanation for how that woman can walk around in next to nothing in the dead of winter and not feel cold.