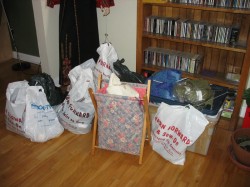 It's been a couple of years and a couple of moves since I last took a good look at my yarn stash.
I knew I had accumulated over 800 points at Yarn Forward over the past few years. You get a point for every dollar spent. And Yarn Forward wasn't my only dealer – there was also Wool-Tyme, and Ebay and Sandrasingh.com. And a few other one-offs where I occasionally picked up a little something special. You know how it is.
I had acquired a lot of yarn and I am a slow knitter, so I knew there must be a lot of yarn down there in the basement. But somehow I had managed to minimize it in my own mind over time.
I just went looking for a cardigan I started in 2004. I found the bag it was in, with the completed back, two fronts and a bit of one sleeve, along with two balls of yarn. It occurred to me that this wasn't enough to finish the sweater, so there must be more yarn somewhere. And this got me rifling through the stash and HOLY SHIT I've got an ungodly amount of yarn.
I dragged it all upstairs and forced myself to sort of organize it.
Unstarted projects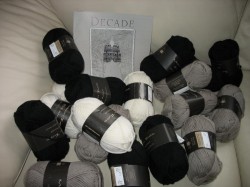 I found yarn and a pattern for the Mission Falls Nomad sweater. I'm not very good at Fair Isle knitting. I don't want to start it because I don't think I'll enjoy knitting it and I know I'll mess it up. (I should have thought of that before I spent $111.84 on the materials.)
I also found yarn that was clearly bought with a specific project in mind, and I can't remember what the project was. I'm pretty sure it was another Mission Falls sweater though.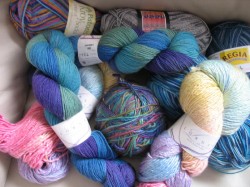 There were quite a few unbegun socks too. There is some gorgeous Lorna's Laces sock yarn that will not go to waste.
Unfinished projects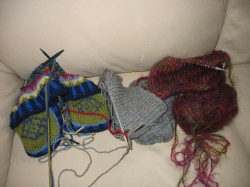 There are a couple of unfinished projects I fully intend to finish. The green sweater (not shown) which precipitated the trip down to the basement today, and an Inca earflap hat (shown nestled among some abandoned hats).
Abandoned projects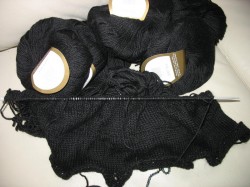 I want to do something with the gorgeous luxury Baby Silk Alpaca I bought to make a black beaded sweater. This is a seriously decadent yarn. But after knitting several inches of the back, which took forever on 3 3/4 needles (23 stitches and 28 rows for a 4 inch swatch!), I did some mental math and realized the yarn requirement in the pattern was WAY off. This sweater was going to end up costing me hundreds of dollars, and was going to take about 130 years. I abandoned it.
And then there were piles of hats and socks, usually abandoned because something went terribly horribly wrong, like the sock was inexplicably gigantic or I ran out of yarn or I got bored.
Projectless yarn
I attribute this yarn to inexperience. In the early days, I would buy yarn because I liked it, with no project in mind. Or I would buy yarn at garage sales because it was cheap. I have never yet knit any yarn that was bought without a project in mind. If I do not buy the pattern and the yarn together, the yarn is doomed to permanent unknittableness. (I do have a couple of bags of Jo Sharp cotton that might get knit up this summer.) (But I've been saying that for four years now.)
Leftover yarn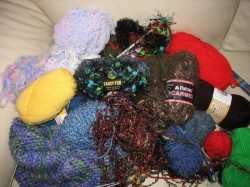 Ugh. I hate leftover yarn. It's not enough to do anything with, but it seems a waste to just throw it out. So it just accumulates, usually in a big communal tangly mess.
Other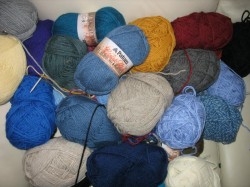 Other, in my world, is yarn acquired during the winter of the Inca Hats. These hats were multicoloured (8 colours per hat), and each one was different. They were all knit in Paton's, which comes in a gazillion colours. And I, being a classic decision-impaired Libran, spent hours at Yarn Forward poring over the various colours and colour combinations, until finally I just caved in and bought all the colours. This is a photo of a very small sample of my extensive Paton's collection.
After I had gone through this process, I actually threw some yarn out – mostly from the Leftover Yarn category. I also put together a Giveaway bag of yarn I will never knit; the bulk of it came from the Projectless Yarn pile. I was very proud of myself for reducing my stash by about a quarter.
Unfortunately, though, digging through the stash has given me an appetite for fresh yarn and new projects. I have such an urge to go yarn shopping. It's like a disease or something. Knitting could be such an inexpensive hobby, because it takes so bloody long to knit anything. Six dollars worth of sock yarn could keep me going for weeks. This could be the cheapest craft in the world, were it not for the insatiable yarn appetite that knitters develop.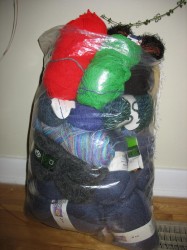 Anyway, I'm going to try to resist the urge to buy more yarn until I finish the Unfinished Projects pile. (I am trying to be realistic here by not insisting that I also start the Unstarted Projects.)
If you want the giveaway bag, let me know. Otherwise I'll donate it to Cambridge Street Community Public School for their annual fabric and yarn sale.
Tags: