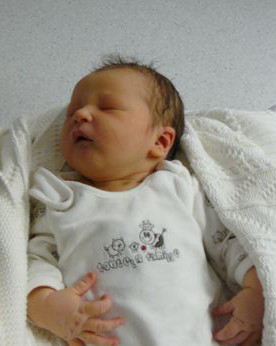 Andrew and Sharon ZRX finally have their baby! And judging by the pictures, he was definitely worth waiting for.
According to AndrewZRX, "He's the biggest (and most gorgeousest – I kid you not) baby on the ward."
Welcome to the world Bruce, and congratulations on your new parents.
Details are still scanty, but he was born at 3:12 am this morning and he's nine pounds even. Doesn't he make you just want to KNIT SOMETHING??
By the way, Andrew needs our help:
"I have a placenta on my kitchen counter and my wife needs it to be gone before she gets home. Please help."