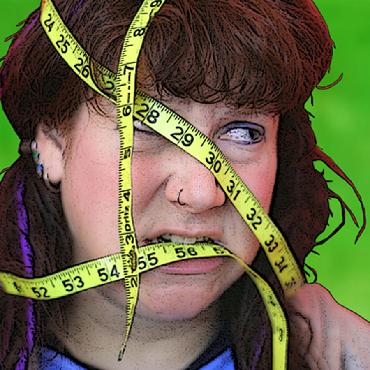 First off, a disclaimer: I have no experience at reviewing plays, and I'm probably less perceptive and insightful about plays than the average audience member. So please, take what I say with a grain of salt; it really is just my humble opinion.
I liked Circumference, but I found the audience reactions disconcerting.
Circumference is a one-woman show, written and performed by Amy Solloway from Michigan. It's about an ample woman who has struggled all her life with her body image, and who is now applying for gastro-bypass surgery. Her (American) health insurance will only cover the costs under certain conditions, including a documented six-month diet and exercise regime. As she embarks upon this regime, she reminisces about (and acts out) various incidents from her life, like being tormented and humiliated by a gym teacher in junior high.
This play was billed as "hysterically funny," and clearly there were many members of the audience who were amused. But I really struggled with the humour. The show was essentially about self-loathing, and it explored depths of pure pain sugar-coated with self-deprecating humour.
Here's an example – just one of many because the whole show was like this. She decides to stay home and never go outside again. She says when the paramedics eventually come to remove her 500 pound body from her home, ham sandwiches will fall out of the crevices of her body. The audience roared.
I think I have a pretty good sense of humour, but I just didn't feel like laughing at that. To me it seemed like the humour lived in the crevices of overwhelming pain. I found it unsettling when other audience members laughed at things like that; it felt like there was some kind of collective cruelty taking place. (And yet I realize that Amy Salloway gives the audience full permission to find it funny – she intends it to be funny – so if she's okay with it, how come I'm not?)
On the plus side: While the ending seemed a bit implausible to me, I did love the way she physically transformed herself into a radiant woman just by changing her posture and facial expression. It's worth seeing the play just for that alone. And I liked the setting, which was an intimate little theatre in a basement.
If you want to see it, the schedule and other details are available here.
On the way home I stopped on the bridge and admired the sunset while listening to the strains of Herbie Hancock floating up from the Jazz Festival.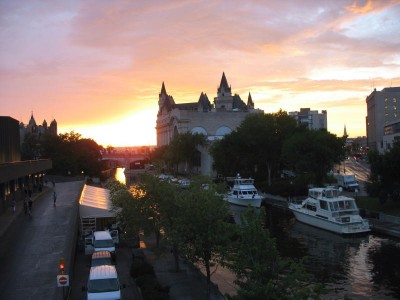 TAGS: