I once went seven years – 1995 to 2002 – without a single illness. Not a cold, not a flu, nothing.
But that was then and this is now. Now I've got a head cold and the epicenter feels like it is centred in my left eye. Have you ever had that? It's a first for me.
I keep going and looking in the mirror to see if I look as bad as I feel, and I don't. Thank God. I expect the eye to look all bloodshot and rheumy, but it doesn't. It just looks surprised.
I joined the gym today and this is my plan: Get up at 5:00 every weekday morning, leave the house at 5:30, walk downtown to the gym, change, work out for an hour, shower, and be at the office by 8:15.
I know. It's crazy.
It takes 21 days for most people to adopt and entrench a new habit, but 27 days for me because of some quirk of personality that the Fly Lady identified. I have enough willpower to adhere to this workout schedule for a week. That leaves me with a deficit of 20 days. Not only that, but I'm going away for five days at the beginning of May, so even if I adhere to the schedule until then, it's not long enough to entrench the habit. (This doesn't mean I can't do it; just that it won't be easy.)
I know at least half of you are thinking I should just go to the gym two or three mornings a week instead of five. I thought of that. But wouldn't it be even harder to entrench the habit of waking up at 5:00 a.m. every other day?
Anyway, I start tomorrow. Wish me luck. I hope I don't just shut the alarm clock off at 5:00 and wimp out because of the cold in my eye. Speaking of which, I just had a bath with eucalyptus oil in it and it smelled really good but maybe you're not supposed to put essential oils in your bath water…my skin is burning. (Don't mind me. I have a tendency to turn into a bit of a hypochondriac when I'm sick.)
Aside from that, the highlight of my day was that Spring sprung and opened up my favourite walking route to work. For almost five months, I've had to take the pragmatic route rather than the scenic one, because the sidewalks on the scenic route don't get plowed.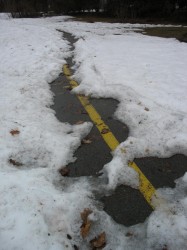 But today enough snow had melted that I was able to walk through the Experimental Farm and the Aboretum and then up the O-Train path. It made me very happy to be able to walk this route again and pretend I was in the country.
Here are some of the signs of spring I saw along the way:
The Canada Geese have started coming home!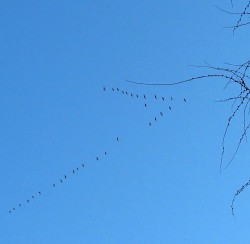 There's a new lake on the Farm.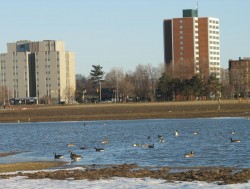 The Canada Geese like the new lake on the Farm: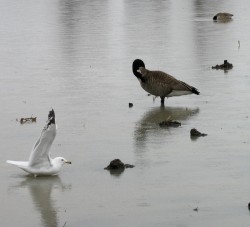 I used to think earthworms came out of the ground because they loved the rain so much. But no. They do it so they won't drown when the earth is saturated. Poor refugee worms.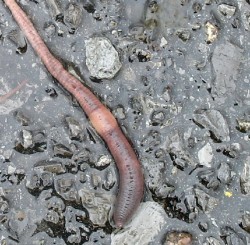 This is the Dalhousie Community Centre garden on Somerset Street. I could tell this morning that Ida had been in there cleaning it up, and now there are shoots!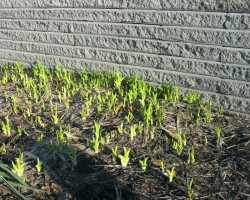 The forecast for the rest of the week is phenomenal. The highs are climbing steadily throughout the week till Friday, when it will be twenty degrees.
Happy Spring to all of us – we definitely earned it this year!