My immediate reaction was "$!%%^!"
GC's immediate reaction was "Don't blog about it!"
Of course I have to blog about it. One of the best things about having a blog is that when life hands you a bag of steaming shit, at least you've got something to blog about.
Duncan peed on the bed again. Just when I'd started thinking his peeing on the bed was a momentary lapse, an almost-forgotten aberration, an accident even, he peed on the bed again.
After I swore and fretted and did laundry, we contemplated shutting Duncan out of the bedroom as a preventative measure, but decided not to do that.
He joined us in the nice freshly made bed, made himself extra comfy and purred up a storm.
"Poor Dunky," I said.
GC burst out laughing. "Poor Dunky??"
"Poor Dunky wet the bed," I said.
You're probably wondering why GC said "Don't blog about it." It's because he knows Duncan has quite a following of blog readers who think he can do no wrong and who will therefore blame GC for Duncan peeing on the bed, and who will say "Dump GC, keep Duncan!"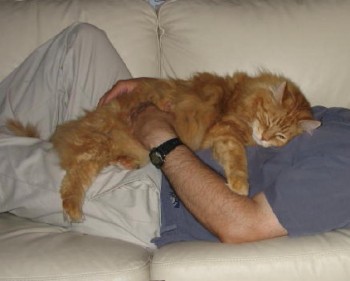 But maybe Duncan peed on the bed for reasons completely unrelated to GC.
Duncan likes GC. Oh sure, the time he peed on GC's clothes, that was probably about GC. But Duncan and GC are good buddies now. They cuddle and snuggle and Duncan likes to hang out with GC when he's playing the clarinet and he runs to greet him at the door when he comes over.
Maybe Duncan peed on the bed because I switched brands of kitty litter that very morning. PetSmart discontinued his regular brand, so I got the closest thing I could find – both were made by the same company, both were non-scented and clumping. To me, peeing on the bed seems like a huge over-reaction to such a minor change, but maybe it was a big deal to him. He didn't use his litter box all day. Poor Dunky.
Or maybe it was because I stayed out late that night after going to the Sex Trade Workers rally and dinner afterwards, and poor Duncan could see the bottom of his food dish and was traumatized by the possibility of impending hunger.
In any event, Duncan peed on my bed again, which is worthy not only of a blog post, but a poll too. Go ahead – vote!
TAGS: