I tend to avoid fashion because it's so easy to go so dramatically wrong without even knowing it. I still cringe whenever I remember my pink crimpolene hot pants outfit, complete with black patent leather boots, which I wore every time I wanted to look especially good in grade nine. I am actually blushing at this very moment.
I believe there are two kinds of fashion-impaired people. The kind, like me, who don't even try to be fashionable because we don't trust ourselves to get it right and we don't want to look ridiculous; and the kind who pursue fashion for its own sake with no regard for what suits their bodies, and who consequently sometimes look ridiculous.
Even though I feel a deep kinship with other fashion-impaired people, every now and then some stranger's fashion faux-pas strikes me as so horrifyingly interesting that I feel compelled to surreptitiously take a photo of it.
And so it was at the Umo Cafe on Somerset Street on Wednesday.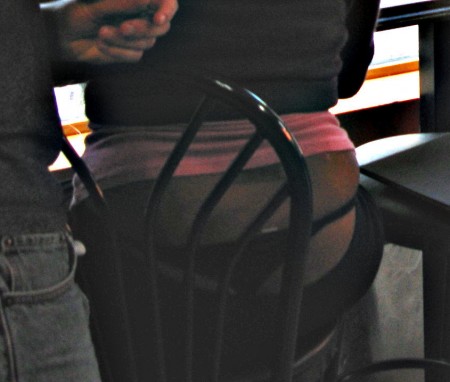 Do you think she knows that this is what she looks like from behind when perched on a stool? If you were her friend, would you say something?