The Sock
I tried. Really I did. And then I put it away, at least for awhile. I'm going to try again after Christmas. When things settle down. When I settle down.
Meanwhile…
I knit a baby hat for Chelsea from some silky Lion & Lamb I had in my stash. It was a very soothing knitting experience.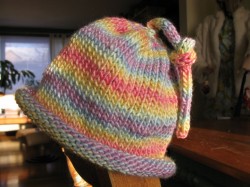 The Canadian Blog Awards
For a couple of days there I wasn't sure whether Knitnut had come in third in Best Personal Blog or was in a three-way tie for first. The voting system was that complicated. It reported twelve 'rounds' of vote tallying, and after each round votes were reassigned from losers to non-losers and there were 'equalizations.' Whatever that means. The final results showed Knitnut in a three-way tie for first, even though it got eight fewer votes than one blog, and five fewer than the other.
Following several days of radio silence from the organizers, during which we could see the results but not understand them, a list was posted. Knitnut was third in Personal, and Bank Street Bully was fourth in the Best Blog Post category. (Thank you kindly to all of you who voted for me. I appreciate it very much.)
Other local results
Robin Kelsey's Watawa Life took second in Best Photo/Art blog, but will always be first in my books. Milan's A Sibilant Intake of Breath came in third in Best Science/Tech blog. Apt. 613 was second and Mindful Merchant fourth in Best New Blog. Postcards from the Mothership was second in Best Family Blog. Congratulations to all. (I hope I didn't miss anybody…if I did, please let me know.)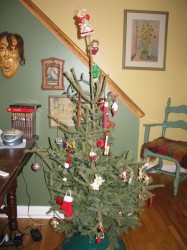 Christmas
GC keeps buying Christmas presents for the pets but giving them to them early. So now we're keeping all the pets' presents at my house. We've got a big meat-stuffed bone for Logan, some catnip mousies and other toys for Duncan, and some special seed bars for Billy and Lester.
I love my Christmas tree. It's a modest little Charlie Brown affair. It's wobbly and tilted and it has wayward branches sticking out at odd angles. Some years I like a big, symmetrical tree, but this little guy feels like the right tree for this year.