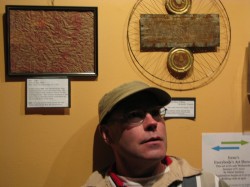 We went to Everybody's Art Show at Irene's Pub last night.
I love the all-inclusive concept: everybody is invited to create and donate art for this event. Everybody! So for weeks ahead of time, artists and non-artists alike are busy making art for the main event, which is a silent auction. Most, but not all, of the contributors are regulars at Irene's. You get everything from beet juice on a crumpled paper bag, to a bicycle sculpted from a single piece of wire, to photographs and paintings, to textile art and found objects and a thing in a box.
All the proceeds go to charity. This year the charity was an organization that buys art supplies for northern communities.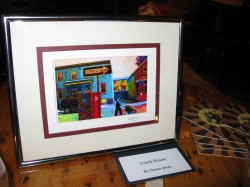 There were about 30 pieces on sale last night, including an older one of mine, called Crack House. (It apparently fell off the wall and had to be re-framed, so it wasn't on display until yesterday.) It sold for $35 to a young woman who seemed quite happy to have it.
The most highly sought-after piece, judging by the fierce bidding, was the three-dimensional Night Wind by Albert Prisner. At $153, I think it ended up being the priciest piece there. There was also a native storytelling piece by Bernar'l'espirit that saw a lot of action, as well as a photograph taken by Ian Tamblyn, and another by Bob Acton. (There was some spirited controversy at the end of the bidding over who was the legitimate winner of the Acton piece; I'm not sure how that got resolved.)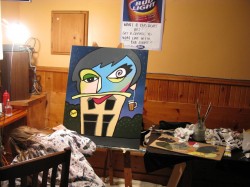 This year they had a new feature – an artist who created a painting at the show, over the course of the evening. I wish I could do that.
The event was better attended this year than last, because last year there was a wicked blizzard that day.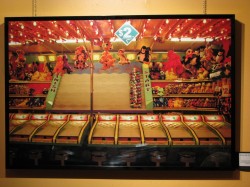 I didn't bid on anything myself this time, since my art budget is temporarily depleted. But I agreed with the popular bid – Night Wind was the one to want.
My hat goes off to all the open-minded people at Irene's – especially Pat – who have designed an artistically inclusive event which encourages and celebrates even the most fledgling creativity and talent.