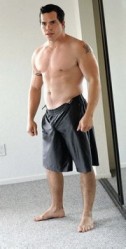 The Shady Lady Brothel has hired its first male prostitute, and he starts work today.
Markus prefers the title 'gigolo', or 'surrogate lover', to prostitute (or prostidude, a term newly coined by the media).
His new bosses won't let him do any more media interviews, not since he told Details Magazine that his role in the sex business was "just the same" as civil rights icon Rosa Parks refusing to move to the back of the bus.
I find the story interesting because it's such an amusing mix of progressive and regressive attitudes. Take this line for example:
"All this gay homophobia in this country is horrible," Davis [the brothel owner] said. "Everybody's so damn scared two men might have sex – it's happening every day in Las Vegas. Not going to happen here, but that's all the big fear, is gay people."
[emphasis mine]
In case you're wondering, $300 will buy you an hour with Markus. For $2,000 you can spend the night with him. (The Shady Lake claims its rates are targeted at the average working man.)