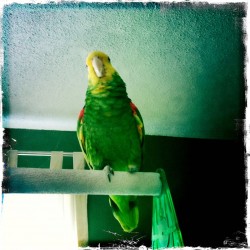 Here's Kazoo! I haven't been able to get any good pictures of him yet because he's still a little shy, and he hangs out way up there near the ceiling. (He's on a perch on top of his cage.)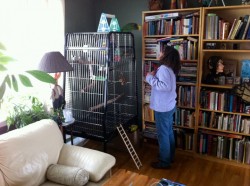 His cage is huge. I remembered it was big, but holy guacamole! It looks a lot more massive in my little living room than it did in their gigantic kitchen. He also came with a parrot stand and a box of toys and food, and an even bigger outdoor cage that they'll deliver in the Spring. He's got more stuff than a baby!
So about Kazoo. He arrived in a cat carrier, squawking up a storm. After his people left, he continued to talk for awhile. Mostly he said "Allo Coco!" in a hundred different ways. High-pitched, low-pitched, evil, sexy, etc. I think he might have said some other stuff in French that I couldn't quite make out. Or maybe he's got his own language – he mutters to himself quite a bit.
When Duncan made an appearance, Kazoo mostly stopped talking and the two of them stared at each other. Kazoo's pupils were flashing big and small, big and small, big and small (it's called pinning, and I read that it can indicate aggression, excitement, or great interest). Duncan's pupils got big and round and stayed that way.
Duncan can tell that Kazoo is not a stalkable bird. He knows he's out of his league. So Duncan's curled up with me on the couch right now and not paying much attention to Kazoo. Kazoo, on the other hand, looks like he's trying to sleep with one eye open. I don't know if he knows anything about cats. He lived with a dog before.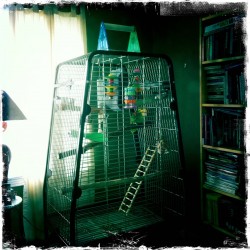 Anyway. This is a lot of bird. Right now I feel a bit sorry for him because I think he's starting to realize that he's not in Kansas anymore. He might be feeling homesick. He's being very, very quiet. (And even when he's very, very quiet, he still dominates the room.)