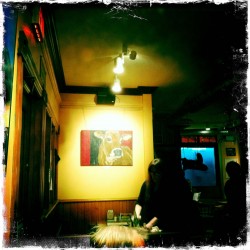 On Wednesday night GC and I attended the 3rd annual Everybody's Art Show at Irene's Pub. If you're not familiar with the concept, it's brilliant and it goes like this: everybody, especially the regulars, is encouraged to submit works of art to the show. You don't have to be an artist; in fact, most people aren't. But it's amazing what creative non-artists can make. There was a lamp fashioned out of an old clarinet. There was a bicycle fashioned out of a single piece of wire by Peter Conway, proprietor of McCrank's Cycles, next door to Irene's. There were paintings and assemblage pieces. Some people, instead of making art, donated art from their own collections.
On the appointed evening, there is a silent auction of all the submitted artworks. Final selling prices tend to be affordably low, and all proceeds go to a good cause. This year the good cause was the Glebe Neighbourhood Activities Group, for the creation of a community art project.
In previous years, GC and I submitted art. But this year we didn't hear about it until a few days ago, so we didn't. We did, however, bid on – and win – some art. And we had a couple of drinks and soup and sandwiches and a lot of fun. Everybody's Art Show is one of my favourite art events of the year.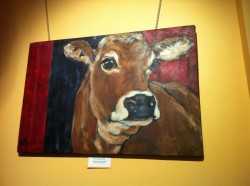 GC got a fabulous painting of a cow by Kate McCartney. The cow saw some pretty intense action among several determined bidders, but GC triumphed.
I got a piece called Space Cop by Dan Martelock. Dan's got a show happening down at the Shanghai Restaurant at Somerset and Bronson right now; we went to to his opening last week. I like his stuff, and have been wanting to add a piece to my collection for awhile now, so I was very happy to win this.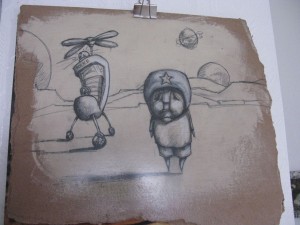 I also got a piece by Albert Misner. He created it using a pseudonym, but his true identity was revealed in the program. It's an assemblage piece called PHZZZ, or something like that. It's made of a wooden box, a bottle, a cork and a whole bunch of wire. It looks like a celebration in a box. I have these two built-in recesses in my bedroom wall, which need tall skinny things to be displayed in them. One has my tall skinny recorder collection. The other one now has PHZZZ.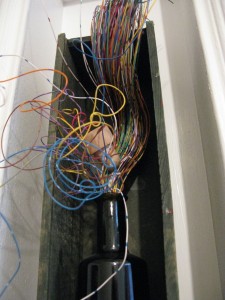 And I got a painted guitar called Hip Crankster Johnny Cash, by John Sekerka, Guitar Artist. It was what you might call an impulse bid. Something just came over me. I watched in wonder as my hand reached out and wrote my bidder number and bid on the bidder's list. At any rate, it's mine now!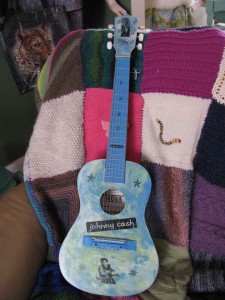 Lots of fun. You should go next year!