GC and I have had our eye on this pile of snow for awhile now. We even had a little bet on how long it would be until it completely melted. Unfortunately we couldn't remember what dates we guessed, so we had to start over. At the same time we decided to expand the contest to include you.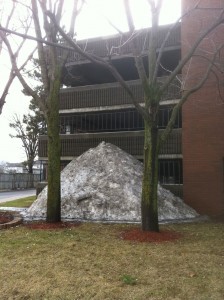 Some pertinent details:
This picture was taken yesterday.
The snow pile is on Merivale Road in Ottawa, across from an empty Experimental Farm field, and is on the east side of the building visible in the photo.
As you can see, the snow still reaches close to the second floor of the parking garage.
All the snow was dumped there over the course of the winter by a little snowplow from the top floor of the parking garage.
Here's a link to the Ottawa weather forecast (in metric).
There will be a prize for whoever most accurately predicts the date on which this pile of snow disappears. Guesses will be accepted until noon on Wednesday April 13. Leave your guess in the comments. In the event of duplicate guesses, the first one wins. I will check and photograph the pile daily. The winner and the prize will be announced when the snow is gone.