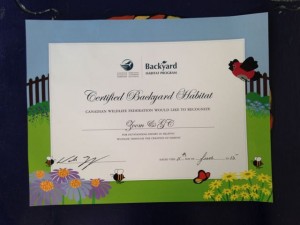 It's a teeny-tiny backyard, but this year we added six bird feeders, some native plants, a composter, a bird bath and a mister. Now we've got a bunch of regulars who visit throughout the day, including cardinals, goldfinches, chickadees, woodpeckers, purple finches, squirrels, chipmunks, butterflies and bees. And we've been certified by the Canadian Wildlife Federation as a wildlife-friendly backyard habitat!
I'm unemployed now, and my favourite thing is sitting in my back yard with a book and a handful of peanuts, which I pass out to all the squirrels and chipmunks who visit.
My great grandmother – my mother's father's mother – lived in Canada for the first few years of my life. I think she went back to Germany when I was three or four. She spoke very little English. She was short and round (everything about her was round, including her face and her glasses.) She loved to cook. She had a dachshund named Mitzi. I don't know if any of these things I remember about her are my own memories, or just memories of photographs and things other people told me about her. But I do distinctly remember one thing. She used to sit out on the back porch and feed peanuts to the squirrels. They would come right up to her and take the peanuts out of her hand. I was so impressed by that.
I wanted desperately to feed the squirrels too, so she would park me on the back step with a peanut and tell me to sit very quietly and don't move and wait patiently. I tried my best, but I was too little to pull it off. I'd sit there for what felt like hours, but the squirrels never trusted me the way they trusted her. (It sure made her job of babysitting me easy, though.)
Anyway. I've been thinking about her lately, now that the squirrels take peanuts from my hand. I think she'd have liked my back yard. I think we'd have gotten along.