The Harper Government TM is still attempting to shut down Insite, Canada's only supervised injection site. The case is now before the Supreme Court of Canada, which is where I spent yesterday morning.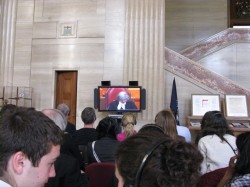 I had to line up to go through a scanner, and empty my pockets and put metal things in a bin and so on. The security guy and I didn't like each other. I think he thought I was being willfully obtuse, when in fact I was just being a little scrambled because security procedures make me nervous. He openly sneered at me. Twice. I didn't sneer back, but I thought he was a jerk.
The courtroom was full, so I joined a number of other people in the lobby, to watch the proceedings on TV. We were given headsets and chairs.
A little background
Insite is a supervised injection site in Vancouver. Addicts bring their own drugs to Insite, and inject them in a clean place, using clean equipment, under the supervision of a nurse. This helps prevent contamination, the spread of disease, and death by overdose.
Every single scientific study (over 40, to date) has indicated that Insite is an effective public health initiative and helps to prevent disease and death. Many of these studies have even been funded by the federal government itself.
In order for Insite to operate legally, it has an exemption from the federal Controlled Drugs and Substances Act to permit illegal drugs to be consumed on its premises.
The Harper Government TM is ideologically opposed to Insite, and wants to shut it down. It refused to renew Insite's exemption.
Insite took it to the BC Court, which ruled in Insite's favour.
The government appealed the BC Court's judgement, and the case is now before the Supreme Court of Canada.
Yesterday's Hearing
Much of the debate hinged on the federal/provincial division of powers. The government says drugs fall under federal jurisdiction, therefore it has exclusive control. Insite however is a health care facility, and therefore falls under provincial jurisdiction.
It's more complicated than that, and I don't pretend to understand the nuances of paramouncy or interjurisdictional immunity or any of the finer points of constitutional law, so I'm not going to get into that.
But I think it boils down to whether or not Insite requires an exemption from the Federal Minister of Health in order to allow illegal drugs to be legally consumed on its premises.
Here are a couple of highlights from yesterday's hearing.
1. The Harper Government TM claims no decision has been made about whether to grant the exemption, which is ridiculous since everybody knows the feds won't grant the exemption.
2. Insite had an impressive roster of intervenors and expert witnesses to speak of its benefits, including the Canadian Association of Nurses and other health care organizations. The Harper Government TM had only one: Real Women. (I'm not even kidding.)
3. The government's lawyer, when asked, was forced to concede that the feds have no evidence that Insite doesn't work.
4. The Supreme Court's decision is expected in a few weeks. I'm virtually certain they will rule in favour of Insite, as the federal government had nothing – no evidence, no credible intervenors, no logic. Just Stephen Harper's personal opinion.