I'm outraged that Rona Ambrose, Minister of State for the Status of Women in Canada, voted to re-open the abortion debate. The legal right to choose if and when to have children is absolutely fundamental to women's rights, and I find it appalling  that there's an anti-feminist in charge at Status of Women. Doesn't the Harper Government have any respect for women?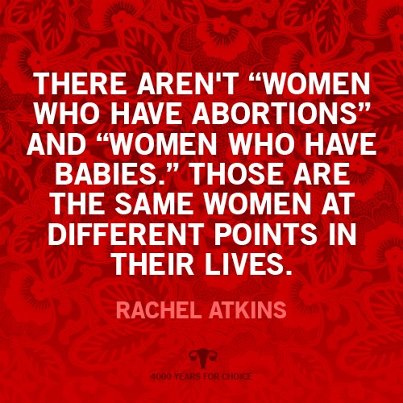 I'd estimate that half the women I know have had both abortions and children. Some had abortions in their youth, followed by children later on. Some had abortions after they'd had all the children they wanted.
It's rarely an easy choice, but it is one of the most important ones we'll ever make and it's absolutely essential that we get to make it for ourselves.
A child is completely, irrevocably life-changing, and when you want one and you're ready, it's completely, irrevocably life-changing in a good way. But when you don't and you're not, it's completely, irrevocably life-changing in a dreadful way. And by dreadful, I mean the thought of it fills you with dread. Other times (and this is the worst), you're ambivalent.
I may struggle with the burden of choice, but ultimately nobody knows better than me if I'm in a position to devote my life to the raising of another human being at any given time. Especially not some politicians I've never even met! How dare they presume to know this better than me, better than the women of Canada? How dare they try to replace our fundamental rights with their personal moral code?
Parenting is way too important to be forced on women, especially by a bunch of right-wing anti-feminist politicians whose commitment to children ends at birth.
I honestly didn't think it was possible to despise this government more than I already did. I was wrong.