Ever have one of those days when all the good stuff is happening at the same time but you can't be everywhere at once? Last night was like that for me. I had to decide between going to my writing class, going to Irene's Pub for the Chopper McKinnon tribute, or going to Parliament Hill to watch politicians vote on whether to extend human rights to transgender people.
I decided on Parliament Hill, and GC came with me. We've been to Parliament Hill many times, but this was our first time in the public galleries, watching democracy unfold. We sat in the gallery with mostly transgender people who were very friendly and helpful, and who took the time to explain things to us.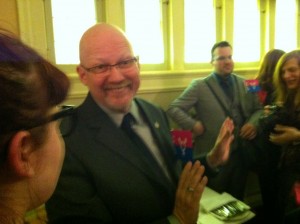 The voting was a bit confusing. Bill C-279 is a private member's bill introduced by NDP MP Randall Garrison. For private member's bills, voting proceeds in rows from the back forward. There's a guy who calls each member's name and a woman repeats the name and then that member sits down. At first GC and I thought they were taking attendance, but they were actually voting on an amendment to the Bill. It proceeded fairly quickly, but there were 16 votes and two hundred and some odd members, so the whole process took awhile.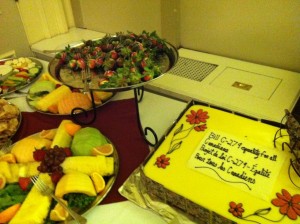 Anyway, the bottom line is that Bill C-279 passed, with unanimous support from the NDP and the Green Party, and some much-needed help from a handful of trans allies in the Liberal and Conservative parties. Next it goes to the Senate – if it passes there, transgender people will be recognized in the Bill of Rights. The trans people in the gallery were very happy, and at least one of them was overcome by emotion and burst into tears in the hallway afterward. I felt good that I had chosen to be there instead of in writing class or in Irene's Pub. After the voting, there was a party with snacks and cake and lots of happy politicians and transgender people.
Another highlight of the evening was that I got to see Kady O'Malley (@kady) live tweeting! I follow her on Twitter, just like everybody else, but I've never actually seen her in action. Do you know how many tweets she has? 130,575 and counting. She's a tweeting machine.