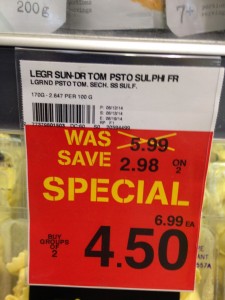 Yesterday I was at Loblaws (Baseline and Woodroffe) buying ingredients for veggie quesadillas. Pesto was on sale for $4.50. I bought one. As I walked away from the store, I scanned my bill and saw that I'd been charged $6.99 for the pesto. I went back to the pesto shelf and re-read the sign.
Aha! The sale price only applied if you bought two or more packages of pesto. But look! The regular price is $5.99. If you only buy one, the "special" price is $6.99. Is it just me, or is this doubly misleading?? It's so easy to not notice that the sale price only applies if you buy two. But then you get charged an EXTRA dollar over and above the regular price if you only buy one.
I snapped a picture and took it over to customer service. The nice young man agreed you shouldn't have to pay more when it's on sale. He let me have the sale price even though I only bought one.
Another example involved 20-packs of batteries where it said in large print that the sale price was $11.99. But in microscopic print it said that if you only bought one package, the price was $17.99. At the cash we were charged $17.99, and when we complained, the friendly young woman at customer service took us to the shelf and showed us the sign. Even when she pointed it out, we still couldn't see it – that's how small it was. She agreed it was ridiculously small. She called her manager who said we could have it for the sale price, but "in the future we should be more careful." (I was tempted to say something like "In the future you should be more careful not to steal from your customers," but that seemed a bit ungracious given that we had already won this particular battle.)
I'm not particularly vigilant – both of these times, I just happened to notice that I got overcharged. But I think from now on I'm going to pay closer attention, because I am not sure these are honest mistakes. They seem like deliberate attempts on Loblaw's part to mislead and deceive customers. Are these tactics even legal?
If I had a store, I wouldn't need laws to keep me from ripping off my own customers. I'd do it for ethical reasons and also because I wouldn't want my customers to think I'm trying to rip them off.