Yesterday I thought I would go crazy if I stayed inside, so I wandered down to the Glebe in the rain. I plugged my ears into the MP3 player, which I don't do often because I feel it kind of alienates me from being wholly where I am, but I didn't feel like being wholly where I was so it was ok.
The Glebe is a trendy, expensive village-y neighbourhood in Ottawa. I like it, but I feel almost bad for liking it.
Art in the Park was happening in the Glebe, so I wandered among the artists' tents, looking at art, wanting to feel inspired enough to actually buy something. I wanted to see something I could not possibly live without, but that didn't happen. That's more a reflection of my state of mind than of the art. Some of the art was just sitting out in the rain. I don't know much about paintings, but shouldn't they be kept dry?
I spent a little time at my friend Stuart's tent. Stuart makes and repairs jewelry and teaches jewelry-making. And he's always in a good mood.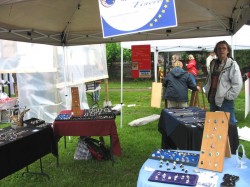 Then I checked out the horse man.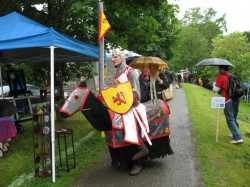 After that I still wasn't ready to head home, so I went down to Irene's Pub for an afternoon beer with the regulars. My son's father was there, and he had a pressing question for me: How old is our son? I made him guess, and he was only off by two years.
And then I wandered home in the rain. Bought a bottle of wine, but forgot to open it. Finished knitting the clapotis. Did the laundry. Watched an excellent documentary on CBC about Canadian comedians. And went to bed.