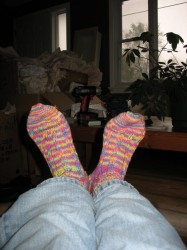 Before I moved, I knit these socks in Lorna's Laces sock yarn in the Child's Play colourway. They were finished except for the last 8 stitches, which had to be done in Kitchener Stitch, which required my sewing needle, which was unfindable in the chaos of moving. I knew I had deliberately not packed it, but I couldn't remember where I had safely tucked it so it would escape being packed. On the day of the move I reluctantly packed the very-nearly finished socks, knowing it might be months before I ever saw them again.
The movers found the needle under the TV. I marvelled at my ingenuity. What a clever place to hide a needle.
I can't remember where I put it, but eventually I found both the needle and the sock, and got the computer hooked up (I always have to do Kitchener stitches with the help of an online tutorial), and sewed up that toe.
So these are my new socks, which I think are very very cute. Katherine described the colour as "Penelopesque."
If you look carefully at the picture, you will see my first power tool framed by the socks: it's a variable speed, reversible, cordless, rechargable drill with a 100-piece accessory kit, and it was a present from Richard and Cathy. It even has torque (reminder to self: google torque).
I had lunch with David Scrimshawthe other day and he shared some drilling tips:
1. Keep your eyes open.
2. Wear safety goggles.
3. Don't worry about not looking cool with safety goggles on, because you look cooler than people who wear glasses in safety goggles.
4. Find scrap wood in the garbage and practice on it.
5. If you only want to drill to a certain depth, put some tape on the bit at the desired distance, open your eyes, watch the bit from behind your goggles, and when the tape touches the wall, stop drilling.
So far I have not drilled anything, because my safety goggles are still packed.
Last night I went to Walmart and got a programmable thermostat. It was regularly $49.95, and it was on sale for $25, and I had an instant rebate coupon from the government for $15, so the final price was $10 plus tax! (It helped make up for the $45.95 curtain rod.) I went to Canadian Tire too, and was going to buy furnace filters, but the selection was overwhelming and it turns out they come in lots of different sizes too. So I bought a Swiffer instead.
Tonight I Swiffered the floor, then shared a roast beef sandwich with the dog. He loved it. Immediately after wolfing it down, he threw it up and wolfed it down again. Dogs really know how to get the most out of life.