I guess I've been kind of morbid lately, what with my dog and Kurt Vonnegut dying and the Dead Dave Wall and the dead guinea pig story. It's time for a more upbeat post. Something uplifting and inspirational. Something heartwarming and joyful.
Ho hum. While we're waiting for me to think of something like that, here are some photos of a dead nun and a dead priest. It's pretty obvious the nun's dead, but they actually propped the priest up in a chair and went to a lot of trouble to make him look alive.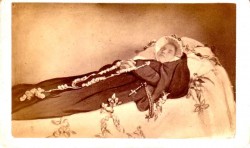 This is a post-mortem CDV (short for carte de visite, or visiting card, standard dimensions 2.25″ by 3.5″), which were a popular form of paper photographs in the 1800s. There are no markings on it, so I don't know who the photographer was, who the young nun was, when the photo was taken, or what sort of nun she was. In other words, I know nothing.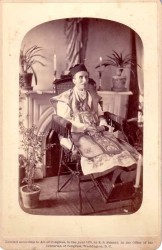 This is a post-mortem cabinet card of a priest or a cardinal or something. I suspect he was somewhat important because the photograph has this printed on the bottom: "Entered according to Act of Congress, in the year 1879, by E.S. Sterry, in the office of the Libraries of Congress, Washington, D.C." On the back of the card it says "Sterry Photographer, Adams Block Cohoes."
So we know the approximate date of this photograph, and the photographer, Sterry, who worked in New York.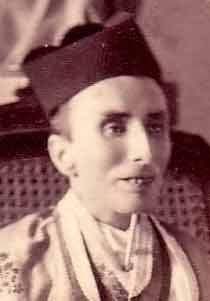 How do we know the priest is dead? Check out the stick wedged between his chin and chest. Dead giveaway.
If anybody can shed any more light on either of these photographs, please let me know. I would very much like to know who these people were.
I wonder if the dead priest's name was Dave…