I went to a memorial service for my friend's stillborn baby yesterday. I desperately did not want to go. I tried to think of ways to rationalize not going. I went.
Her name was Angélique, and she was my friend's daughter. She was apparently healthy and she weighed nine pounds, but she suddenly and inexplicably died just three weeks before her due date, and two days before her birth. Her mother was in labour for 16 hours, knowing that her baby had died.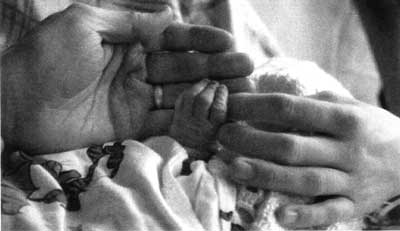 It was the saddest yet sweetest memorial service I've ever been to. There was a reading from The Velveteen Rabbit about how love makes you real. There was a song: The Angel, by Sarah McLaughlin. There was a video memorial tribute, with photographs of her family and her pregnant mom and her ultrasound pictures, set to Eric Clapton's song If I See You in Heaven. There was sweet Angélique, swaddled in a basket, with two stuffed puppies, surrounded by people who had fallen in love with her before she'd even been born.
Two people spoke: her grieving father and her heartbroken mother. Through their grief-choked words, what shone through was layers upon layers of intense love and profound loss. All the things they dreamt about and imagined in their daughter's future, all the experiences that will never happen: they loved and lost all that, and more. There's a permanent hole in their family now.
I can't even imagine such unfathomable depths of grief. Nobody should ever have to find the strength to go through what they're going through.
Angélique's mother told me that they wanted this party to be beautiful, because it was the only party they would ever get to plan for her. It was profoundly beautiful. I'm glad I went.
May the longtime sun shine upon you
May all love surround you
May the pure light within you
Guide your way home

– Namaste –