The other day, when the Somerset House (aka The Ritz Hotel, back in the day) suffered an internal collapse, I immediately checked to make sure the Swap Box – mounted on an outside wall – was intact. It was.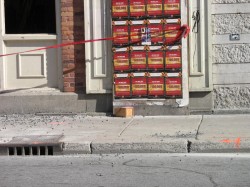 On Monday, however, the Swap Box was lying on the sidewalk. Somebody had wrenched it from the wall, maybe with a crowbar. I stared helplessly from across the street at the poor Swap Box.
I wanted to rescue it, but it was WAY inside the police barricades. I would have had to slip under the barricades outside the grocery store, run across Bank Street (which was closed to traffic and pedestrians in case the Ritz finishes falling down) grab the box and run back. That wouldn't have been so hard, except there were two squad cars guarding the Swap Box and making sure nobody entered the barricaded area. The cops were already eyeing me suspiciously as I photographed the Swap Box from across the street. Or at least I felt they were.
I kept an eye on it for a couple of days, and tried to come up with a plan. Today I got my chance. At 8:00 a.m. I stepped out of the Second Cup at Bank and Somerset with my usual apple-cranberry muffin, and checked to see if the Swap Box was still lying on the sidewalk. It was. I checked to see if the cops were still guarding it. They weren't! The foreman with the white hard hat was there, but he was on the Somerset Street side. My timing was perfect – I think the cops were changing shifts and there was a tiny window of opportunity for me to rescue the Swap Box.
I ducked under the barricade, ran across Bank Street, scooped up the Swap Box and its strewn-about contents, scooted back across Bank Street and slipped back under the barricade. People looked at me funny, but nobody tried to stop me. Then I finished walking to work, Swap Box tucked safely under my arm. (I have to tell you, the Swap Box is MUCH heavier than it looks.)
At work I inspected it and threw out some of its soggier contents (two packets of sugar, a piece of gum, and a white spongy thing). I saw that part of the wood and two screws had been left behind on the wall when it was wrenched off. But mostly it's still in good working order.
The question of course is What Do I Do With It Now? I put it on the kitchen table at work, but I don't think my colleagues liked it. Someone moved it over to the other table against the wall. I guess they thought it was a bit too icky to be on the kitchen table. Nobody put anything in it except me – a vial of vampire blood. Even that didn't tempt them.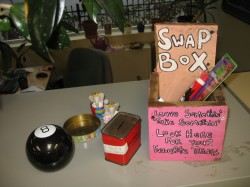 Here it is on my filing cabinet, along with my Magic 8-Ball, the Dave X change box, and various other things. I don't think it wants to be an Office Swap Box. I think it yearns to be outside. (Suggestions for its relocation are welcome.)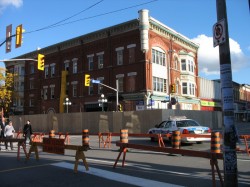 It turns out I rescued it in the nick of time. Eight hours later I saw that a bigger and better barricade – a fortress, really – had been erected around the Ritz. It completely encases the Swap Box's territory. If I hadn't managed to rescue it this morning, it would have been entombed forever with the Ritz. (And sadly it's looking more and more likely that the Ritz will be demolished instead of restored.)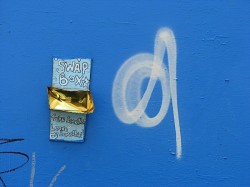 But you know what? That's not even the BIG Swap Box news! Two readers of this blog emailed me and sent me pictures of OTHER Swap Boxes around town. There are at least three. (And maybe even seven or more, because Robin photographed one that was labeled Swap Box #7). He saw it on a downtown street in June of last year, but he can't remember which street. He does remember that the Swap Box was empty.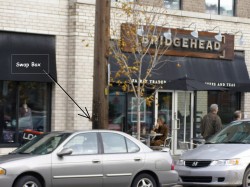 Gilles, on the other hand, provided a precise location for his Swap Box, which was 5 metres west of Bridgehead on Wellington, in the Bagel District. He even included a link to a Google Map. Coincidentally, there was a Miss Vicky button in Gilles' Swap Box.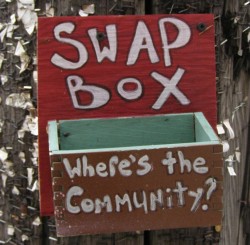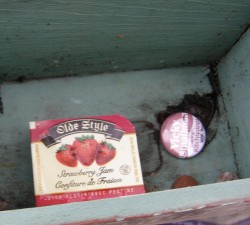 Gilles, being retired and free as an eagle, even found time to do some Swap Box research. It seems the humble Swap Box is part of a much larger global Swap Box Project, which has its origins right here in Ottawa!
See here, here, here, here, here, here, here, here,
and here.
Tags: