I've been asked by a couple of people how the Canadian Blog Awards affected my blog stats. Without a doubt they were a real shot in the arm. But, interestingly, the spin-off effects were more dramatic than the direct effects.
If you take a look at the following chart you'll see that the craziest, most dramatic spikes occurred on the two days the Yarn Harlot mentioned my blog on her blog.
The Harlot, as the knitters already know, has a huge and faithful following. While some non-knitterly types were shocked that a knitting blog could win Best Canadian Blog of 2007, knitters were not surprised. She has a lot of quiet influence in the blogosphere. For example, in the last three years her blog has raised over $400,000 – from the knitters who read it – for Médecins Sans Frontières / Doctors Without Borders.
When the Harlot generously mentioned knitnut.net as another knitting blog in the Canadian Blog Awards (once near the beginning of the Blog Awards, and again near the end), look what happened to my Statcounter graph (click to enlarge) :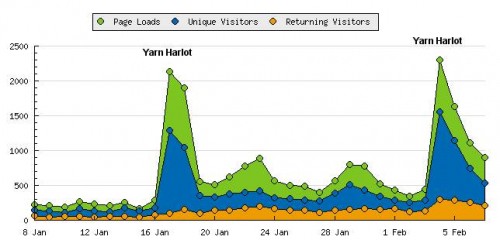 Not shown in this chart is the meteoric rise in the number of subscribers, as measured by Feedburner. It took me two years to get the first 75 subscribers, and a month to get the next 150!
I'm sure the numbers will go back to normal, or at least settle somewhere in between what they used to be and what they have been lately; in fact they're already retreating. And that's okay, because honestly, I was feeling a little stressed by it all. I blog in part because I love to write, and I love to write in part because I'm kind of shy and introverted by nature.
It was exciting watching the numbers rise so dramatically, but I'm happy to be returning to my comfort zone, in which my blog's readership increases gradually over time. (But for those of you who started reading during the last month, and want to stick around, don't get me wrong – I'm very happy to have you here.)
TAGS: