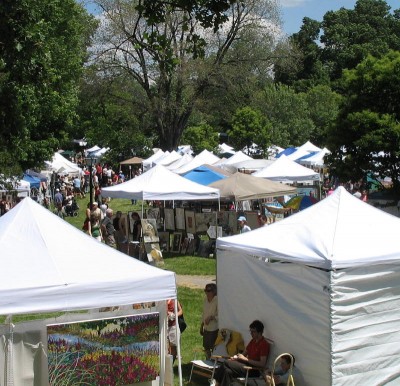 I went to Art in the Park yesterday, which is a phenomenal outdoor art sale.
I really wanted to buy art. I was ready to buy art. I was certain I would buy art.
I spent three hours looking at art but I did not buy art.
I think it's my Libra nature. I just could not decide which art to buy, so I bought no art. There were lots of pieces I liked, but I needed to see one which overpowered me and consumed me and screamed "YOU CANNOT LIVE WITHOUT ME."
Didn't happen.
(There was one that came close, by Denise Dowdy, but I couldn't afford to not live without it.)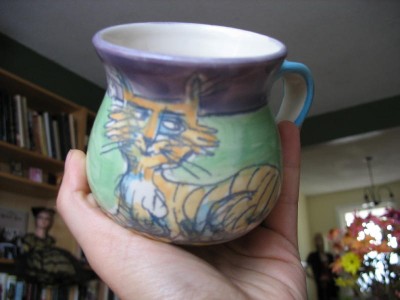 I did buy a pottery mug starring Duncan though. Chandler Swain made it. I searched through all the mugs, looking for one for David Scrimshaw. David just acquired a cat named Drexel and I thought a Drexel mug would be a nice "congratulations on your new cat" gift.
I don't know why, but Chandler Swain doesn't make mugs with ancient, boney, funny-looking, three-legged cats on them.
I'm sure once Drexel becomes the "next super star cat of the blog-o-sphere," as David predicts she will, Chandler Swain will make a Drexel mug.
TAGS: