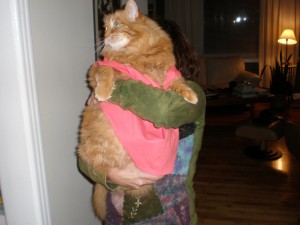 I used to sleep alone in my big double bed. Last January Duncan moved in, and as you know he's kind of on the large size. He's never been the kind of cat who sleeps with the feet. Right from the very first night, Duncan slept with his arm wrapped around me and his face tucked up against mine. The bed felt smaller with Duncan in it, but in a nice, cozy way.
Last summer GC moved into my bed too. He's got his own house, but he spends most of his nights with Duncan and me. As you might recall, this caused Duncan some distress in the beginning, which he resolved by peeing in the bed. But Duncan and GC like each other very much, and I think they've worked things out for the most part.
There's still a little bit of jockeying for position in the bed sometimes, but we seem to have mostly settled into this configuration:
GC and I snuggle up facing each other, entwined. Duncan gets himself comfy up on the topmost conjoined edge of us, purring and peering down on us like a gargoyle. (That's peering, not peeing.) Sometimes he reaches a paw down and strokes my face.
Even though his weight is distributed between the two of us, he's still a fairly substantial cat, and we sometimes have trouble falling asleep like that because we can't breathe.
So then we all realign ourselves. I roll over onto my back, taking Duncan with me. He curls up in the crook of my left arm, with his face tucked under my chin. GC cuddles up against my right side. We fall asleep like that most of the time, all cozy and comfy.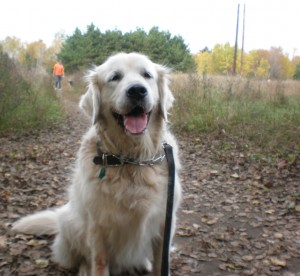 Now that we've ironed out the wrinkles, we want to bring GC's dog into the picture. It just doesn't seem right that the three of us are so cozily ensconced in one house while The Dog sleeps alone in the other. (But just so you don't think The Dog's being completely neglected, GC works at home, so The Dog has companionship all day.)
The Dog did visit once, in the early days, and Duncan was displeased in the extreme, and expressed his feelings about it with impressive clarity by peeing on GC's clothes.
We learned not to be so cavalier about the cat. We learned to be more circumspect, more respectful, more fearful of invoking his displeasure.
Since then we've been tossing around ideas about how to properly introduce Duncan and The Dog.
So far we've put a picture of Duncan on GC's fridge, at The Dog's eye level, and a picture of The Dog on my fridge, at Duncan's eye level. We haven't noticed either of them looking at the other's picture, but maybe they do it when we're not around.
If you have other ideas, we'd love to hear them.
TAGS: