This extraordinary gift started with Rachael. She's a California blogger, knitter and novelist, and a lovely person to boot. Rachael put the wheels in motion in May, shortly after I was diagnosed with cancer.
Grace – who doesn't yet have a blog but who will be a phenomenal blogger when she does – offered to help Rachael coordinate things. Rachael and Grace contacted a number of other knitters who read my blog, and asked them if they'd like to help create a gift for me.
And then the knitters started knitting! The Canadian knitters mailed their completed pieces to Grace. The American knitters mailed their pieces to Rachael. I'm not sure where the African and Australian knitters mailed their pieces. Grace then mailed the box of Canadian squares to Rachael in California, and Rachael and her friends and sisters got together and transformed all those gorgeous squares into the exquisite Zoom Blanket!
And look at it! Isn't it the most beautiful blanket you've ever seen? EVER? It's not just wonderful and touching and heartwarming and generous and kind, it's also absolutely stunning!
Rachael then mailed the blanket to Grace and Grace attached the last square, which had arrived late, and boxed it up and delivered it to me, along with a whole bunch of lovely cards and touching notes.
I woke up in the middle of the night on Thursday and I just lay there for the longest time thinking about this gift and what it means. I thought about all the work and cooperation that went into it. I thought about what it meant to the women who made it, and what it means to me. I thought about how friends I've never even met could care so much about me that they would somehow transcend geography to make something so wonderful, so full of love, just for me.
This year, as you know, has been crazy bad for me in some serious ways. Even so, it has been a much richer and more meaningful year than most. This blanket is – literally and symbolically – one of the treasured gifts to come out of this period of my life. It represents friendship and comfort and nurturing and warmth and community. It is a gift of tremendous beauty. It is a work of art. It is something I will cherish every day for the rest of my very long life.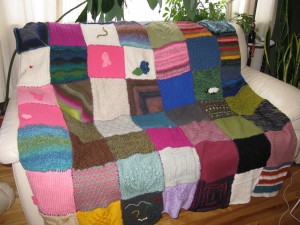 Every time I look at this blanket – every time I think about this blanket – I am reminded that I am part of something much bigger and better than myself. I am part of a community, and this community, like this blanket, is even greater than the sum of its parts. Each of us is unique and special, but together we are an extraordinary force.
To all the women who contributed to this gift, thank you. You have given me a wonderful gift – something that knits all of us together forever. (You have even given me something that makes me look forward to winter, and you have no idea how extraordinary a gift that is for a wheelchair-bound Canadian girl with poor circulation!) Thank you so much. I love you all!
---
I'm going to put together another post about this blanket next week, with photos of each of the squares. I want you to see how gorgeous they are! (I'm planning to identify the knitters too, so if you don't want to be identified, or if you'd rather I used a pseudonym for you, please let me know at soozoom@yahoo.com. Thanks.)