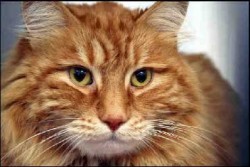 You guys are NOT going to believe this. Remember two years ago when Duncan was immortalized in a piece of street art by Elmaks? Well, it's happened again. This time he's in a novel. I'm not kidding. I was reading a book, when suddenly, completely out of the blue, right there on page 37, there was Duncan. Duncan!
At first I thought maybe it was just a coincidence, but then, some pages later, there was a description of the cat, and it matched. I sent a message to the author, Rachael Herron*, and she confirmed it: the literary Duncan was modeled after our Duncan!
You really have no idea how thrilling it is to find your cat in a novel.
Duncan, of course, is pretty cool about the whole thing. He's a cool cat. He says Johnny Depp is going to play him in the movie.
If you want to read the book, it's called How to Knit a Love Song, by Rachael Herron. It's a romance, but it's a GOOD romance. I wrote the following review on Amazon:
"I don't usually read romances, but was drawn to this one because of the knitting angle. I really like it. It's entertaining, funny and charming, and it has some sizzling sex in it too. Best of all, it doesn't trivialize women the way the romance novels of my youth did – the main character isn't sitting around waiting to be rescued or swept off her feet or dragged kicking and screaming to some gothic castle where she will succumb to Stockholm Syndrome. The icing on the cake? It's got a fabulous cat character in it. Terrific first novel. I'm looking forward to Herron's next book."
*Rachael Herron is the famous Californian knit blogger Yarnagogo, and she was instrumental in the conception and creation of the Zoom blanket.