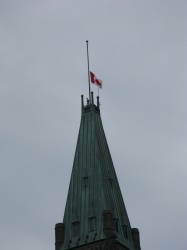 I went to Parliament Hill yesterday, to pay my last respects to Jack Layton. It was a very long, very slow line which stretched pretty much around the whole East Block. I'm glad I went, though I didn't stay.
There was a man near me in the line who said it would be 10 p.m. before we got in. He said they'd shut it down right before our turn. He said it was going to be a very long boring day. He said he didn't expect the rain to hold off much longer.
I smiled. "Love, hope and optimism," I said cheerfully.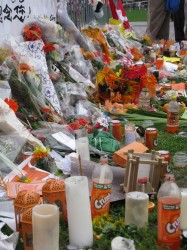 Anyway, he ended up staying and I ended up leaving. Ever since my back problems, I've been unable to stand for very long. I can walk or sit all day, but I can only stand for about 45 minutes before it starts hurting. The security guys were saying it would be a two or three hour wait. I had to get home to feed the pets, and I had other things I wanted to do too. So I left.
Can you tell I'm feeling a bit guilty about this? It reminds me of the time the Dalai Lama came to Ottawa in 1990 to unveil the Human Rights Monument. It was unseasonably cold, wet and windy, and the Dalai Lama was late. When he finally arrived he made a speech which seemed unnecessarily long to me. Instead of listening, I spent the whole time whining to my friends and my son about his lateness and the weather. I still remember my friend Kathryn turning to me and saying gently "Zoom, it's the Dalai Lama."
In my defense, I will say that the weather totally sucked that day. (See? Twenty-one years later and I'm still whining about it.)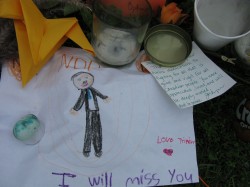 At least I didn't whine on Parliament Hill yesterday. Before I left, I took some pictures. Spontaneous shrines and makeshift memorials tend to choke me up, and this one was no exception. It was lovely and touching and evocative. Lots of handwritten tributes and orange offerings. One thing was clear from looking at the makeshift memorial and the long lineup of mourners: Jack's death hit home emotionally for many of us.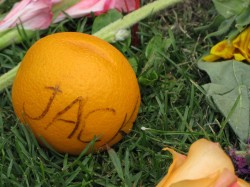 In case you haven't already seen it, check out the National Post's Photo Gallery of Jack. I liked it very much. It covers the good times and the bad, and there were a lot more good times.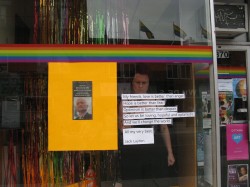 Parliament Hill wasn't the only place in Ottawa where Jack was being honoured.
I saw chalk messages on sidewalks and walls downtown. This is the window at After Stonewall.
And of course there's this funny retrospective video by This Hour Has 22 Minutes.
Goodbye, Jack. May you continue to inspire Canadians for many years to come.