Chandler's B&B
one summer while attending her pottery camp. Someday.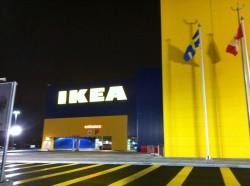 But anyway. We stopped at Ikea on the way back. The new Ikea. The biggest Ikea in Canada. The same Ikea that was making the news for a week in the grand lead-up to the grand opening. The same grand opening that had cops and firefighters and paramedics assigned to it, along with the mayor and a special traffic plan and overnight lineups.
I have to say I was a little disturbed by all the mainstream news coverage this store's opening received. As Laurie Kingston tweeted, "It's just a store, people!"
I wouldn't be surprised if media analysis reveals that Ikea's opening got more coverage than Police Chief Vern White's warning to local sex trade workers that there might be a serial killer at work on the streets of Ottawa. (He didn't say that exactly. He said there was a pattern of violence developing, and, when asked, he refused to rule out the possibility of a serial killer.) The media covered it, of course, but not with the same tenacity that they covered the Ikea opening.
So anyway, GC and I went to Ikea. We were driving right by it on our way back from visiting Chandler, and I guess we got swept up in the hype.
It doesn't seem all that much bigger than the old Ikea. Less cramped, definitely. More white space. Still the same old maze, still the same old stuff.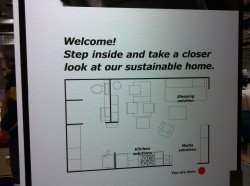 One thing that caught my eye and made me laugh was the "Sustainability Home."
This is where Ikea demonstrates how green it is, and encourages you to be green too. A hundred square feet dedicated to sustainability. Apparently Ikea's idea of a sustainable home is one with signs throughout it saying things like "Put a lid on your pot while boiling water," and "Turn down your thermostat at night," and "Take a shorter shower." All this right in the middle of a half-million square foot shrine to the landfill. I think if Ikea wants to be taken seriously on the subject of the environment, it needs to stop selling disposable crap.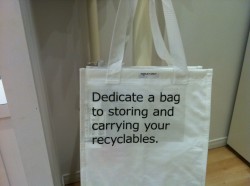 That being said, I admit to having more than my share of Billy bookcases. And I did buy six wine glasses and three glass jars while I was there Saturday night.
Speaking of sustainable homes, though, I got to go on a Green Housing Bus Tour a couple of weeks ago, as part of a workshop at work about the greening of affordable housing. Apparently the non-profit housing sector is leading the way when it comes to energy-efficient housing. I think it's because the non-profit sector is always looking for ways to save money while doing the right thing, and going green does both.
Here's where we went:
Beaver Barracks, which is CCOC's geo-thermally heated/cooled downtown housing development. It's got lots of green features.
The roof of a low-income highrise on Caldwell, to see the solar panels and the water-heating system.
1365 Bank, where Ottawa Community Housing saved a whack of water and money by replacing all the toilets.
An 8,000-square-foot solar wall on Clementine.
A microFIT home, which is solar panels on top of a house. The solar energy harnessed there is not used to power that house, but is instead sold back into the grid, thereby generating income for the home-owner, which in this case is Ottawa Community Housing. OCH is Ottawa's largest social housing provider. They installed MicroFIT systems on 30 of their houses, which will soon be generating a quarter of a million dollars revenue per year for them. Brilliant!
We went to Ikea on the way home from Chandler Swain's house, where I had just purchased two lovely hand-crafted pottery bowls. Chandler Swain is my favourite potter. She lives and works out of a charming little house near Almonte. It is my dream to go stay in